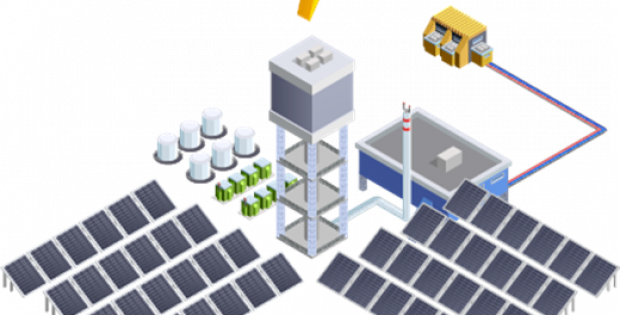 U.S. solar cell market size registered a value of approximately USD 4 billion in 2015, and is expected to observe a growth of more than 14% over 2016-2024, owing to the high demand from the utility sector and rising government efforts to curb carbon footprints and adopt clean energy.
The decline of conventional energy resources is a major factor accounting for the massive growth of solar cell market size. The demand for non-renewable energy sources has observed a peripheral slump in the recent years owing to the lack of availability of fossil fuels, which has intensified the dependency on alternative sources of energy, such as the sun, wind, water, biomass, etc. With solar radiations being the prime source of energy for the earth, solar energy has become the most used and obvious choice among the renewable energy sources, which will push global solar cell industry in the years to come.
Request for a sample of this research report @
https://www.gminsights.com/request-sample/detail/304
Solar cells are composed of thin photovoltaic material layers of metal or glass, and help convert the solar energy into electrical energy to be used for various applications. Increasing concerns regarding depleting energy sources has prompted the government to encourage the adoption of alternative energy sources, which will drive solar cell market size. Government measures for providing electricity in off-grid locations coupled with initiatives such as feed in tariff, tax subsidies, and financial assistance will further fuel the industry trends. According to Global Market Insights, Inc., "Solar Cell industry, worth more than USD 35 billion in 2015, is anticipated to grow lucratively at a CAGR of 12% over 2016-2024."
Cadmium Telluride, Copper Indium Gallium Diselenide, Polycrystalline, Amorphous Silicon, and Monocrystalline are the many types of solar cells. Cadmium telluride solar cell industry is expected to register a revenue of more than USD 20 billion by 2024, having had a demand of approximately 8 GW in 2015. Polycrystalline products are less expensive and very flexible. High efficiency coupled with less expense will drive polycrystalline solar cell market, with a CAGR projection of more than 10% over 2016-2024. Rising application scope across commercial and residential sectors will further boost industry growth.
Growing demand for clean fuel technologies and government initiatives such as capital subsidies and tariffs will considerably influence solar cell industry in commercial applications. Rising installations of PV systems across multiplexes and office buildings will further complement industry growth.
Solar cell market size from residential applications was worth more than 11 GW in 2015 and is anticipated to steadily increase in the years ahead, owing to the high adoption of rooftop solar panels.
Access the solar cell market report now: https://www.gminsights.com/industry-analysis/solar-cells-market
Thin film solar cell market is anticipated to cross a demand of 81 GW by 2024, pertaining to product properties such as high absorption and enhanced efficiency. Driven by the relatively low cost when compared with other technologies, crystalline silicon solar cell industry is anticipated to hit a revenue of more than USD 65 billion by 2024.
Light weight and very high efficiency are the two key factors driving ultra-thin film solar cell market size, which is forecast to observe remarkable growth over 2016-2024.
China solar cell industry registered a revenue of more than USD 9 billion in 2015, driven by the rapid expansion of the photovoltaic industry in the region, and is set to grow at a brilliant pace over 2016-2024. Efforts are being undertaken by the country to explore the myriad possibilities of solar energy generation without weather constraints. Recently, Chinese scientists announced that they are scrutinizing solar cells that can absorb and store energy even from unabsorbed visible and near-infrared light, in all weather conditions.
China covered more than 45% of the overall solar cell market share in 2015. Tax benefits, government grants, and soft loans will further trigger industry growth in the region.
India solar cell industry volume is projected to be more than 24 GW by 2024, favored by government policies such as tax incentives and subsidies.  In 2016, the Government of India announced that approximately 40 GW of power will be generated via solar cell technology, by 2020. In addition, the government has allocated a budget of Rs. 50 billion to install grid connected rooftops systems of 4.2 GW in the years ahead. Such favorable government initiatives coupled with other incentives such as renewable energy certificates and power purchase agreements will complement India solar cell industry over 2016-2024.
Having held a revenue of USD 600 million in 2015, Australia solar cell industry volume will cross 5 GW by 2024, powered by special government measures such as feed-in tariffs and net metering.
Regulatory norms pertaining to the reduction of carbon emissions and the adoption of sustainable energy sources will also propel UK solar cell market, which is set to depict a y-o-y growth of more than 17% over 2016-2024.
Make an inquiry for purchasing this report @
https://www.gminsights.com/inquiry-before-buying/304
South America solar cell industry will grow impressively over 2016-2024, with Chile and Brazil being the chief revenue contributors. Driven by the huge number of commercial projects implementing PV technology, Chile solar cell industry is anticipated to cross USD 700 million by 2024.
Based on grid trends, solar cell market for on-grid installations will notice a significant rise, fueled by tax subsidies, low import duty, and other favorable schemes. The rising implementation of decentralized generation systems in the emerging economies will stimulate solar cell industry for off-grid installations, which is anticipated to hit 45 GW by 2024.
Key market participants include Tata Power Systems Ltd, SunPower Corporation, Moser Baer India Ltd, Trina, Mitsubishi Electric Corporation, GreenBrilliance, Jinko, SolarWorld, Canadian, Indosolar, First Solar, Sunedison, and Yingli. Companies are increasingly investing in R&D for product innovation and to strengthen regional presence.