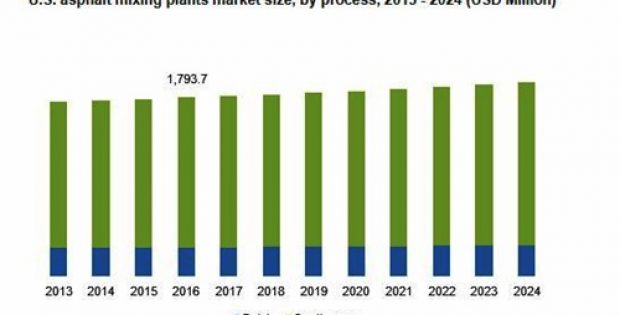 Global Market Insights has recently added a report on Asphalt Mixing Plants Market which provides a succinct analysis of the market size, revenue forecast, and the regional landscape of this industry. The report also highlights the major challenges and current growth strategies adopted by the prominent companies that are a part of the dynamic competitive spectrum of this business sphere.
Road construction was the biggest application segment for asphalt mixing plants market in 2016 and shall grow at a CAGR of 1.6% in the forecast duration. Asphalt mixing plants are primarily used to produce warm mix aggregate which is used in road construction and repair activities. Latin America and Asia Pacific, followed by Middle East & Africa, are increasing their investments in improving public infrastructure, of which, road repair and construction, accounts for a major part. This dynamic will subsequently push the product demand in above region over the next few years.
Request for a sample copy of this report @ https://www.gminsights.com/request-sample/detail/1998
Asphalt Mixing Plants Market size may exceed USD 7 billion by 2024. Strong growth drivers in construction industry are likely to remain a prime factor propelling the asphalt mixing plants market in the forecast period. The industry is primarily driven by product demand from road construction and repair projects. Booming commercial and passenger vehicles sales across the globe shall consequently lead to rise in road repair and construction activities. This trend shall propel asphalt mixing plants market in the next few years.
Increasing asphalt production, mainly in Europe and the U.S., is a crucial growth factor for asphalt mixing plants market size growth over the next few years. However, toxic emissions by these plants may pose substantial threat to the business due to prevalence of stringent norms concerning environment and public health protection adopted by several countries, that majorly emphasize on using equipment & machinery emitting minimum pollutants.
Batch asphalt mixing plants held a major chunk of global asphalt mixing plants market in 2016. Batch plants offer greater flexibility as the hot mix aggregate composition can be altered with every batch. Continuous asphalt mixing plants market size shall observe CAGR of over 1.3% by 2024. Parallel flow and counter flow are two main types of continuous plants and counter-flow currently has higher demand than parallel and shall witness significant gains during the forecast timeframe. This is on account of its superior design and structure along with low pollutant emission.
Browse Report Summery @ https://www.gminsights.com/industry-analysis/asphalt-mixing-plants-market
Asia Pacific had a major share of asphalt mixing plants market in 2016, both in terms of volume and value, and shall continue to hold its position in the coming years. The prime reason driving the market?s growth in Asia Pacific is the huge amount of capital being invested by governments, particularly of China, India, Thailand, Malaysia and Japan, to improve the road infrastructure of their nations. This shall prove as a new growth opportunity for companies planning to expand their production and operations in Asia Pacific as it possesses huge market potential.
Key market share contributors operational in asphalt mixing plants market are AMMANN, Marini, Benninghoven GmbH, ASTEC Industries, Sany Group, Nikko Limited and Kredmash. Other major companies functional in product market are Lintec, NFLG Inc., Cesan, Speedcrafts, DELTA Group and SPECO.