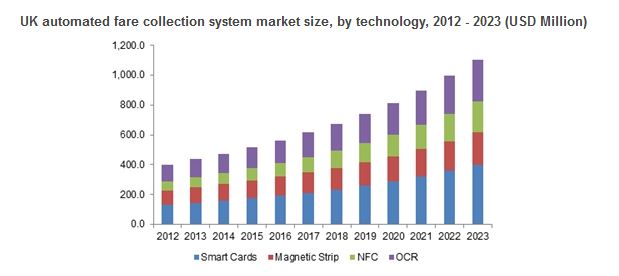 Automated Fare Collection System Market in hardware segment has witnessed high growth
opportunities in recent years owing to the provision of essential components such as bus card
processors, portable ticket and inspection devices, and bus controller units. Hardware devices,
such as contactless smart cards and dual interface smart cards, are gaining popularity due to
ease-of-access and the convenience that they provide.
Automated Fare Collection System Market is expected to reach USD 9.8 billion by 2023. Increasing
government initiatives for controlling and strengthening the public transport facilities in
several countries drive the industry growth. Several government administrations are investing
highly in these systems, aiding the expansion of the transportation infrastructure. These
systems use contactless smart cards for reliable and accurate fare collection in buses. Such
factors propel the automated fare collection system market demand.
Smart cards occupied over 30% of the automated fare collection system market share in 2015 and are predicted to witness growth. NFC technology is estimated to see 12.3% CAGR growth from 2016 to 2023. A step up from the traditional radio frequency identification (RFID), NFC helps achieve (short-range) communication between electronic devices. On account of high degree of compatibility, NFC can be coupled with the fare collection platform. In comparison to alternatives, NFC provides high degree of user experience since it is fast and also helps realize automated connections. Technology availability and integration in smartphones and the reader devices helps achieve the dual benefit of access control and ticketing. The ease of use with the existing infrastructure also prevents the need for further investments.
To access a sample copy or view the automated fare collection system market report in detail along with the table of contents, please click the link below:www.gminsights.com/request-sample/detail/406
Growing trend of advanced ticketing architecture is driving the automated fare collection system
market growth owing to the benefits such as equipment supervision, stock management, access
control, and ticket collection reports. The system enables operators in obtaining daily and
monthly data backup, eliminating the manual work and providing customer card history and alarms
that signal about faults and issues in the record. The architecture consists of ticket offering
machines that facilitate the operators and travelers in reloading, refund, and cancellation
operations. They are fully integrated and enable smart card contactless interface by providing
traveler convenience in using contactless debit and credit cards for making payments.
Growing demand to check fare evaders at metro stations, railways, and transit avenues has made
administrations install automated fare collection system market. Factors that drive the overall
AFC system market growth are the inclination to adopt innovative technologies, increased
benefits of the systems, and new technologies that are being developed such as commercial
vehicle operation, advanced traffic management system, automated transportation pricing system,
theme parks, and advanced public transportation system. Moreover, prevention of fraudulent
activities, enhanced revenue management and better planning capabilities for transport services
are some of the major benefits of implementation of the systems.
NFC technology based systems have created new avenues for the automated fare collection system
market. The integration of NFC across smart card readers, ticketing gates, and POS terminals has
increased the efficiency and convenience provided by these systems. This technology reduces cash
handling, manual interaction, and the compatibility with various fare collection platforms. The
customer satisfaction and travel experience provided by NFC-based equipment are very high as
they help in the speedy tracking of the connections nearby and lowering congestion and
inconvenience. Such factors are providing an impetus to the automated fare collection system
market growth.
Rise in population has led to a growth in the mobility demand in public transport in major
cities of the Asia Pacific region. Government and transportation authorities are increasingly
spending to improve public transportation in the region. The automated fare collection system
market growth is gaining momentum due to its increasing adoption in public transportation,
particularly in the metro. Japan is the most developed country in the region in terms of
implementing these systems. Furthermore, the usage of the smart cards is being increasingly
accepted in retail outlets near the train stations, making the card a pre-paid electronic
wallet. Favorable regulatory landscape in the region is anticipated to drive the automated fare
collection system growth.