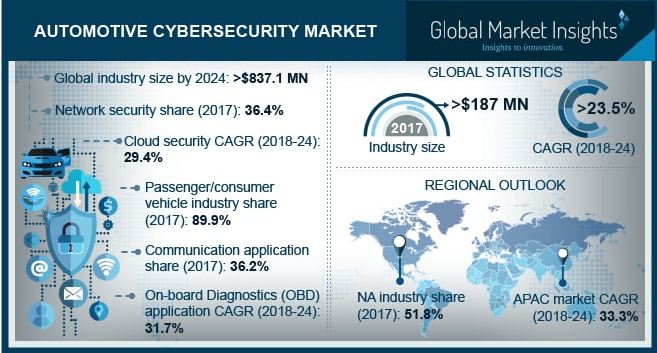 Automotive CybersecurityMarketis benefiting from the investments made by the leading investors, who support automotive firms. These funds are used by the companies to scale up their cybersecurity profile, fighting against the rising cyberattacks. For instance, in April 2018, Denso an international American firm invested USD 2 million in Dellfer, an automotive cybersecurity company. The company plans to use the funding to enhance its operations in the cyber protection of automobiles.Thesoftwaresecurity segment in automotive cybersecurity market is projected to grow at a CAGR of 24.5% over the forecast period.
Global Automotive Cybersecurity Market is projected to surpass USD 837.1 million by 2024. This market is growing rapidly due to the rising advent of smart transportation systems. Smart transportation systems combine various innovative information and communication knowhows to form a network of systems, contributing to regulating traffic and changing the way users, organizations, and governments deal with transportation. Hence, automakers are developing ground-breaking technologies, making the trucks and cars safer than before. Connected and autonomous vehicles are the prominent examples of this pioneering technology.
Connected vehicles offer various benefits such as better communication between vehicles, real-time traffic information, navigation, in-car infotainment, and enhanced fuel efficiency. However, as the vehicles become increasingly connected and automated with the outside environment, they tend to suffer higher cybersecurity threats. The hackers can get access to the vulnerabilities of the connected vehicle leading to the disclosure of the traveler?s personal information pertaining to his trip, financial condition, location, and other details.
To access a sample copy or view the automotive cybersecurity market report in detail along with the table of contents, please click the link below:www.gminsights.com/request-sample/detail/2714
The network security dominates the automotive cybersecurity market and is projected to generate a market revenue of USD 236.4 million over the forecast timescale. The in-vehicle networks carry a variety of personal and operational identifiable information such as microphone recording, location, and call and navigation history, due to which protecting the data and messages over the network bus is important for privacy and operational security. Moreover, network protocols, such as Local Interconnect Network (LIN), Controller Area Network (CAN), automotive Ethernet, FlexRay, Wi-Fi, 5G network, Bluetooth, and Dedicated Short-Range Communication (DSRC), also aggravate cybersecurity threats. Therefore, it is important to adopt improved security techniques by interacting with security-enhanced network protocols to provide authenticity, integrity, and reliability of transmitted data.
The passenger/consumer vehicles held 89.9% of the market share in 2017 and are projected to dominate the market over the forecast period. Cybersecurity plays a key role for consumers when they are purchasing the vehicle due to which various automotive manufacturers are working toward making cybersecurity a priority by adopting multi-layered security approach. Tier 1 companies and OEMs are using comprehensive solutions by combining innovative technologies and cybersecurity services, addressing the security challenges in connected passenger vehicles.
The communication application is projected to reach USD 231.4 million by 2024 due to the various innovations in the automotive communication technology which include short-range communication, V2V, V2I, and vehicle to internet communication with the aid of embedded modems and Bluetooth-paired smartphones. As these devices are highly prone to cyber-attacks, it is essential to maintain secure communication between these devices and automobiles interior ECUs. Hence, various automotive and software security providers are entering into strategic partnerships and collaborations to enhance the vehicular communication systems safety and security.
Europe automotive cybersecurity market is witnessing a fast growth rate and is projected to reach USD 224 million by 2024. Germany dominates the European automotive cybersecurity market as it is the home to some of the leading automobile manufacturers including Ford, Volkswagen, BMZ, Audi, Mercedes-Benz, Opel, and Porsche. These companies are working with various software cybersecurity providers to increase the security offering aimed at maintaining passenger safety while traveling. For instance, in 2016, Volkswagen collaborated with three Israeli cybersecurity experts to establish an automotive cybersecurity company aimed at making vehicles and their ecosystem highly secured against cyber-attacks.