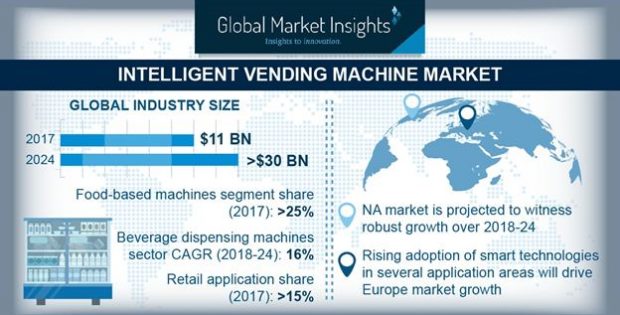 Intelligent Vending Machines Market is experiencing high growth due to a rise in the development of the energy-efficient solutions by manufacturers that will help companies to reduce their carbon footprint. Players operating in intelligent vending machines market are developing eco-friendly and recycling vending machines to provide sustainable technologies for reducing the environmental impacts. Some of the major players, including Coca-Cola, are developing smart vending machines that are integrated with these recycling technologies. Moreover, countries including India, China, the UK, and the U.S. have adopted initiatives and policies for reducing the plastic usage. Such regulations are encouraging the development of sustainable vending machines.
Food dispensing machines are predicted to witness a high demand from several application areas in the intelligent vending machines market. The adoption of these smart solutions in retail & restaurant outlets is growing rapidly. Manufacturers operating are offering different types of dispensing solutions depending upon the food item being served. Several types of food dispensing solutions include snacks, vegetables, ice creams, cakes, fruits, and candy vending machines. The retail industry is installing such technologies based on products that need to be stored in outlets. Snack dispensing solutions are the most widely adopted solutions in the intelligent vending machines market.
To access a sample copy or view the intelligent vending machines market report in detail along with the table of contents, please click the link below: www.gminsights.com/request-sample/detail/1570
Increasing applications of smart dispensing solutions at public transport hubs such as airports, railways stations, and bus stands are predicted to accelerate the intelligent vending machines market. The adoption of food & beverage-dispensing equipment in these places is growing rapidly. These transportation hubs are engaged in transforming their manual operational techniques to automated technologies. For instance, the Indian Railways is investing heavily in automation. In June 2018, it installed automatic food vending machines in the Coimbatore-Bengaluru UDAY Express. These machines are operated using a tablet. Moreover, they are planning to install such systems in several other trains in the future, accelerating intelligent vending machines market.
The growing adoption of the snack & coffee dispensing solutions at offices is expected to drive the intelligent vending machines market. Corporate offices are installing smart technologies that provide various features such as biometric authentication, mobile connectivity, coupon vending, etc., which help enterprises to ensure the safety of the equipment and enhance ease in vending the products. Several corporate sectors provide coupons such as Sodexo coupons to their employees to compensate for their food expenses. Coupon vending machines are being incorporated in such application areas for reducing the efforts and time spent by the management for distributing such coupons. The installation of such smart dispensing technologies at corporate offices will accelerate the intelligent vending machine market.
 The Asia Pacific intelligent vending machines market will expand at a rapid pace over the coming years due to growing digitalization and urbanization trends in several economies including India, China, and Japan. Increasing customer crowd in retail, restaurant, and entertainment sectors is encouraging store owners to implement advanced technologies that will help in customer engagement, thereby driving sales and profitability. Moreover, the rising trend of automation in business operations is a major factor propelling the growth of the intelligent vending machine market.
Though U.S. has the most vending machines in the world, Japan has the highest density of vending machines with 5.5 million machines in 2016 that put one machine for every 50 people and is known for carrying more range of products that available anywhere else in the world. Fascination with technology, low crime rate, need for convenience etc. have driven the vending machine market in the country, but Japan being the pioneer of technology has presented the next step for intelligent vending machine market.
Key players operating in the intelligent vending machines market include Azkoyen Vending Systems, Continental Vending, Crane Merchandising Systems, Fuji Electric Co., Ltd., Evoka Group, FAS International, Royal Vendors, Inc., Sanden Holdings Corporation, and Seaga Group, among others. These companies are engaged in the manufacture of business-specific solutions that will provide their customers with options to customize the solution based on enterprise requirements. Moreover, technological advancements and innovations in the intelligent vending machine market are expected to be a major factor for the high adoption of these smart solutions.
Browse Full Reports: www.gminsights.com/industry-analysis/intelligent-vending-machine-market