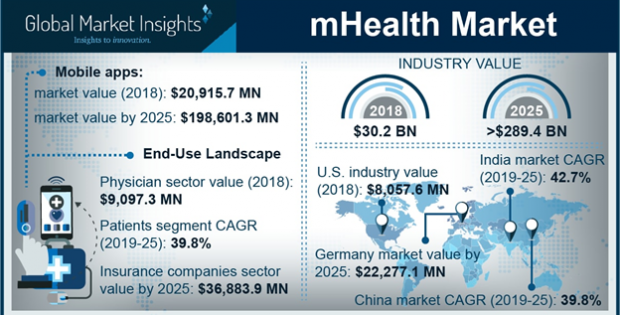 The mHealth Market is set to exceed USD 289.4 billion by 2025; according to a new research report by Global Market Insights. Increasing focus on personalized care and precision medicine will stimulate mHealth market growth over the forecast period. Various pharmaceutical and healthcare companies are using apps and wearable devices to collect patient information and use that data to provide a holistic solution. Increasing online patient communities, growing usage of social media platforms for providing healthcare solutions and rising influence of advanced technologies will boost industry growth in the future.
Growing demand for healthcare information systems and launch of new mobile applications related to mHealth technologies are the factors driving the growth of global market. According to the Centers for Disease Control and Prevention (CDC), mHealth is the practice of using mobile technologies to support public health and medicine. Hence, ease of access and mobility provided by the application of mHealth offers immense opportunities for the healthcare industry, thereby resulting into more accessible, faster, better, and cheaper healthcare solutions.
Request for a sample of this research report @ www.gminsights.com/request-sample/detail/286
Mobile apps segment held significant share of total mHealth platform market, accounting for a total value of USD 20,915.7 million in 2018. Mobile apps comprise wellness management and health condition management. Mobile apps enable healthcare experts to reach their patients anytime and from anywhere. In addition, it also improves the operating performance of their clinics enabling patients to receive quick and easy solutions for their health ailments, thereby boosting the segmental growth
Wearble devices segment is estimated to expand at a CAGR of 39.3% over the forecast period. Factors such as effective tracking and maintaining of patient's diet, body movements, and blood glucose levels along with improved diagnosis and treatment of various chronic disease by healthcare experts will drive the market growth during the forecast period.
The application of mHealth for disease and epidemic outbreak tracking will grow rapidly at 40.1% during the forecast timeframe. Factors such as ability of mHealth technology to quickly capture and transmit data on chronic disease incidence, that will eventually help in the prevention and containment of outbreaks will boost the market growth in the long run. Disease and epidemic outbreak tracking with the help of mHealth application is being used in various developing countries such as Peru, Rwanda, and India, thereby monitoring the spread of infectious diseases.
U.S. market valued USD 8,057.6 million in the year 2018. Presence of large number patient pool, increased affordability in the country along with favorable government initiatives will boost the market for U.S. mHealth market. Additionally, mHealth results in maximizing healthcare expert's time, productivity, quality, and stimulates greater consumer involvement, thereby potentially decreasing healthcare costs in the U.S.
India market is estimated to expand at a CAGR of 42.7% during the forecast timeframe. Factors such as increasing usage of smartphones and internet among the Indian population, and greater demand for easier and convenient means to receive healthcare solutions will boost the Indian market growth rapidly during the forecast period.
Some of the notable industry players operating in global mHealth market are AT&T, Vodafone, Allscripts Healthcare Solutions, mQure, Apple Inc, Samsung Electronics Corporation, Omron HealthCare Inc., Philips healthcare, Bayer Healthcare, Cardionet Inc., LifeWatch AG, Boston Scientific, Sanofi and Qualcomm Inc. Industry players are focusing on developing new superior products capable of offering holistic healthcare solution to patients. Moreover, market players are adopting strategies such as merger & acquisition, strategic collaboration and geographic expansion to consolidate their market position as well as strengthen operational capability.
Make an inquiry for purchasing this report @ www.gminsights.com/inquiry-before-buying/286
mHealth Market, by Application
Communication and Training
Education and Awareness
Diagnostics and Treatment
Disease and Epidemic Outbreak Tracking
Remote Data Collection
Remote Monitoring