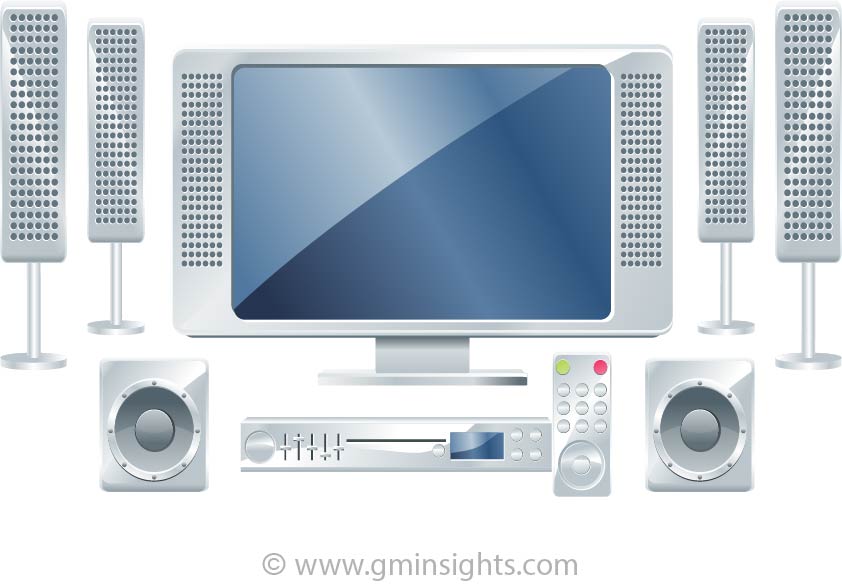 Home audio equipment market is expected to grow owing to the growing penetration of internet of things (IoT) technology across the globe. With the introduction of IoT, consumers are increasingly demanding the devices compatible with multiple other devices to increase convenience and enhance experience. For instance, smart speaker range by Amazon perform several other functions that control smart homes, including control heaters, fans, lights, and thermostats. With the proliferation of this technology, the demand for audio devices that perform such functions is expected to propel the home audio equipment market growth.
Technological advancements such as cloud-based personal music libraries in these devices has attracted young consumers, thus positively impacting the industry growth. Libraries such as Apple, Spotify, Deezer, Pandora, and Amazon Music are allowing the consumers to access a large number of music files available on the internet. Growing trend of consumers to play these files through in-house entertainment devices is expected to propel the home audio equipment market growth.
High-price (more than USD 1,000) segment is expected to grow rapidly over the next seven years, owing to the increasing demand for superior quality of the audio. The high-paying consumers from Europe and Middle East are demanding devices that provide high sound quality, in addition to aesthetic compatibility of the devices with the homes. However, with the proliferation of home entertainment systems in modern homes, the consumers are likely to prefer the home entertainment systems over the high-cost music devices. This is expected to impact the high-price home audio equipment market.
The audio device industry is experiencing behavioral shift among consumers with the penetration of devices such as tablets and smartphones. Consumers are demanding compact and wireless devices that focus on convenience and luxury. High degree of portability, remote accessibility, and manageability is expected to drive the wireless home audio equipment market.
To access a sample copy or view the home audio equipment market report in detail along with the table of contents, please click the link below: www.gminsights.com/request-sample/detail/157
The flourishing electronics industry in Asia Pacific is expected to positively impact the home audio equipment market growth. The presence of large number of players in the region enables the production of devices at low costs, thus gaining high consumer focus. Growing disposable income and increasing consumer spending on luxury devices is expected to provide growth opportunities in Asia Pacific, particularly in countries including India and China.
Growing number of smart homes in developed economies including the U.S., UK, and Germany is expected to bode well for the technologically advanced products in the home audio equipment market. The consumers in these regions are increasingly demanding technologically advanced products such as smart speakers that provide them with enhanced experience, thus propelling the industry growth.
Home audio equipment market is indeed observing a major impetus, on account of the growing number of consumers who have large music libraries and demand high definition music players that can access music from online music libraries such as Google Play Music, Amazon Music, Spotify and style Jukebox. Major geographies have been capturing a substantial share of home audio equipment market, with key companies manufacturing an affordable range of products. Renowned home audio equipment industry giants like Bose Corporation, Philips, Yamaha, LG Electronics, Sonodyne, Bowers and Wilkins have indeed taken note of the major growth prospects of this business space and are seemingly ramping up their investments in high-grade technology. This in consequence, would majorly impact home audio equipment market, estimated to register a valuation of USD 20 billion by 2024.