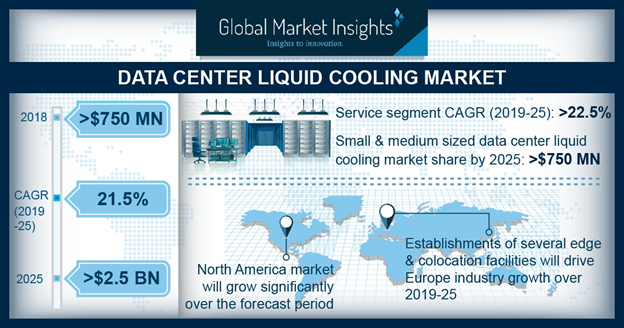 Data Center Liquid Cooling Market driven by increasing storage densities, workloads, and a high number of servers in the infrastructure. As a result, solution manufacturers have developed liquid-based offerings to address such high-density requirements. Additionally, to reduce the high network latency in conventional facilities, several edge data centers have emerged, further driving the industry growth. Dense computing features and remote locations of these infrastructures require efficient cooling due to the high amount of heat generation, further increasing the data center liquid cooling market demand.
The data center liquid cooling market is witnessing high demand for services such as maintenance, consulting, and installation of solutions that are used to manage the overheating of devices. Manufacturers in the data center liquid cooling market are engaged in enhancing their customer experience by offering convenient services that will guide them during various installation & maintenance activities that need to be performed regularly.
These services help companies to save their additional expenses on hiring IT experts for continuous monitoring and evaluation of the system performance. Such advantages are encouraging industries to depend on manufacturers for maintenance services, thereby driving the data center liquid cooling market growth.
The data center liquid cooling market is predicted to witness high growth over the coming years due to rise in adoption of the technology at colocation facilities. Colocation providers are targeting to reduce their IT expenses by the replacement of their costly technical solutions with cost-effective technologies. Such factors are encouraging these colocation companies to shift toward such solutions. For instance, Midas Network is offering 42U CarnotJet racks to colocation customers. These racks can be submerged in a dielectric fluid to maintain the temperature of servers. With an increase in the installation of such technologies by the colocation providers, the data center liquid cooling market will experience considerable growth.
To access a sample copy or view the data center liquid cooling market report in detail along with the table of contents, please click the link below: www.gminsights.com/request-sample/detail/3090 
Large data centers dominated the market with an overall revenue of over 75% generated in 2017 due to the high adoption of these solutions to address complex & dense storage capabilities of these infrastructures. Data center liquid cooling market products are developed with the ability to support efficient cooling of the high-density components and also support the AI integrations. The emergence of edge & colocation facilities across various regions and industry verticals is a major factor driving the growth of the solution segment. Small & medium sized infrastructures also have the requirement for these products due to the incompatibility and inefficiency of air-based coolers.
Speaking of the regional expanse of the data center liquid cooling market, it would be prudent to state that APAC and Europe are two prominent geographical revenue pockets for the industry. Asia Pacific data center liquid cooling market will witness significant growth over the ensuing years, driven by the increase in data capabilities brought forth by the growing digitalization in every possible industry sector.
Leading players in the data center liquid cooling market include Alfa Laval, Rittal GmbH & Co. Kg, Schneider Electric, Vertiv Co., Chilldyne Inc., Asetek AS, Mitsubishi Electric Corporation, CoolIT Systems Inc., Liquid Cool Solutions, etc. These companies continuously develop new cooling solutions with capabilities to cool highly dense storage components.