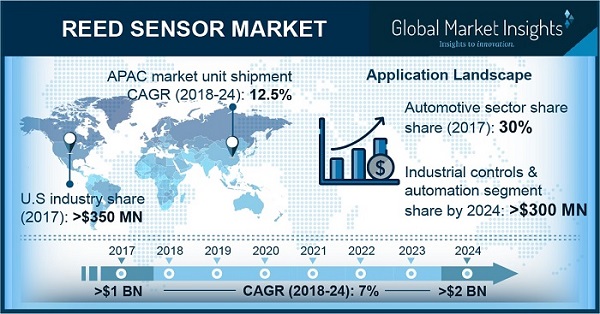 Reed sensor market is anticipated to grow owing to the increasing demand from the consumer electronics industry for battery-operated applications. The technology is being used in several household appliances such as washing machines, coffee machines, refrigerators, dryers, and dishwaters, etc. The demand for appliances is growing owing to the increasing disposable income of people in Asia Pacific and Latin America, contributing toward the growth of the reed sensors market. The sensors are witnessing an extensive demand from HVAC applications such as air conditioners, compressors & condensers, water flow, gas smart meters, etc.
Other major factor augmenting the reed sensor market is the continuous technical improvements in its design. Technological advancements in sensor technology have enabled manufacturers to develop miniaturized devices propelling their demand across the consumer electronics segment. Many companies are investing in R&D to manufacture highly compact miniaturized components for expanding its use across various industries. For instance, OKI Sensor Device experimented manufacturing reed sensors by using micro machine technology for compact reed sensors Moreover, these components are being modified for high speed applications and are being introduced in the market fueling the reed sensor market.
The reed sensor market has been segmented by product, contact position and application. Based on contact position, form A is estimated to hold the largest market share owing to their capability to be manufactured in smaller sizes than other contact forms. This is driving their demand across various verticals contributing towards the growth of the market.
To access a sample copy or view the reed sensor market report in detail along with the table of contents, please click the link below: www.gminsights.com/request-sample/detail/2965 
Asia Pacific is projected to dominate the reed sensor market due to their extensive demand from the electronics industry from regions such as Taiwan, South Korea and China. The flourishing automobile market in China is one of the major factors for the demand for these components for passenger comfort and other electronic systems.
The industrial controls & automation segment in the reed sensor market will witness growth to reach over USD 300 million by 2024 due to an increased demand in the industrial sector for ferrous part detection, end-position sensing in cylinders & pistons, and in transformer tap changers. They are considered as the extremophile of sensors as they work efficiently in most harsh environments and can be used from the bottom of the ocean (high pressure) to space (zero pressure) and from very cold (cryogenic temperatures) to very hot (> 200 C).
Reed sensors market is witnessing a huge demand in lock systems as they consume low power and serve as a desired solution for many emerging security applications that use battery-powered devices with wireless controllers.
The reed sensor market landscape is highly consolidated with a few major players as manufacturing reed sensors require specialized equipment and technical expertise. Major vendors in the market space are Standex Meder, Littelfuse, HSI Sensing, Coto Technology, Nippon Aleph, and others. The gap between demand and supply for reed sensors and disruption in the production capacities of these players can have a severe impact on the global supply of these components.
Attributing to the extensive regional growth, the revenue graph of the reed sensor market is projected to etch out an exponential growth trajectory in the years ahead. According to a report by Global Market Insights, Inc., the global reed sensor market is anticipated to surpass $2 billion by 2024.