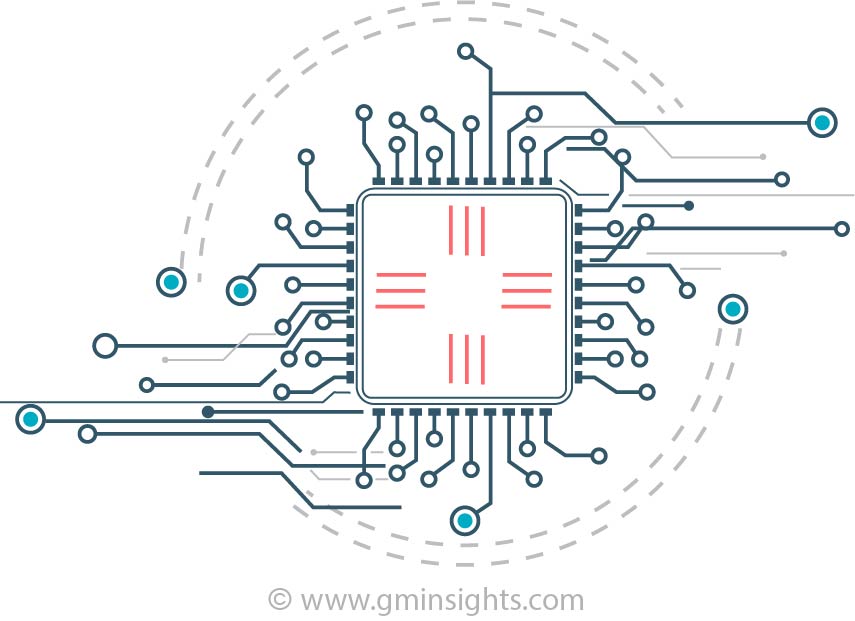 With increasing need for cost-effective production of automobiles and consumer electronics, the electronic manufacturing services (EMS) market has gained enormous momentum over the last twenty years. Consistent rise in the consumption of mobile phones, portable electronics and connected devices overall has helped the growth of several small EMS players to meet the global demand. Vast opportunities in the aerospace, industrial and medical devices segment have also boosted the electronic manufacturing services industry. More recently, the communication and consumer electronics segment have driven EMS providers to pursue key expansion strategies and technological developments.
The demand for green and energy-efficient devices & components that creates a need for these services further contributes to the electronic manufacturing services (EMS) market growth. To cater to these demands, OEMs are developing strategic partnerships with the service providers that aids them in controlling manufacturing costs. The service providers offer product design, development, and manufacturing operations according to the demand from OEMs. Due to these facilities, OEMs achieve appropriate product supplies and save major development costs. This trend allows the EMS market players to develop green manufacturing facilities and energy-efficient products that support the global sustainable goals.
Automotive electronic manufacturing services (EMS) market will grow at a CAGR of around 5% in the coming years owing to the penetration of electronic devices and components in vehicular systems. Increasing utilization of automotive electronics including electronic systems, sensors, and ECUs in the safety, comfort, and infotainment devices creates a demand for EMS. Auto manufacturers develop contracts with the EMS providers for a continual supply of the electronic components. EMS market players have developed specialized design, manufacture, and diagnostic services for the automotive companies. For instance, Actia Group offers automotive industry-specific services to its vehicle manufacturing customers by supporting the production standards such as ISO TS 16949.
To access a sample copy or view the electronic manufacturing services (EMS) market report in detail along with the table of contents, please click the link below: www.gminsights.com/request-sample/detail/2971
The massive growth potential for consumer electronics in APAC can be surmised from Foxconn's recent announcement according to which it is planning to expand its semi-conductor production operations in China. Demand for these small equipment is rising exponentially and an expansion effort by a major EMS provider indicates the same, signaling growth prospects for upcoming EMS firms who wish to penetrate the segment. Foxconn is also demonstrating the trend among companies in the electronic manufacturing services industry shifting from a single key income source to producing more diverse consumer electronic products.
The U.S. electronics manufacturing services (EMS) market dominates the global industry; the electronic manufacturing services demand in the country is estimated to exceed USD 70 billion by 2024. The emergence of several manufacturing companies across all industry verticals in the U.S. has increased competition and enforced OEMs to partner with the EMS providers. Additionally, increasing government rules to produce safe and tested electronic products to be used in industrial applications, such as medical devices and automobiles, supports EMS market growth. To save the labor costs involved in manufacturing and logistics operations, OEMs in the U.S. are shifting toward electronics contract services. These factors coupled with the growth in outsourcing activities account for the rapid development in the industry.
All in all, with unprecedented growth in the demand for consumer electronics over the next few years, the electronic manufacturing services market will witness tremendous inflow of capital for expanding production capacities. Constant innovations, for instance EMS company New Kinpo Group's AI-powered manufacturing robots and autonomous manufacturing capabilities, will further attract OEMs towards Asian companies. Key players dominating the global electronic manufacturing services (EMS) market share include Foxconn, Integrated Microelectronics, Inc., Benchmark Electronics, API Technologies Corp., Celestica, Inc., New Kinpo Group, Venture Corporation and Sanmina Corporation.