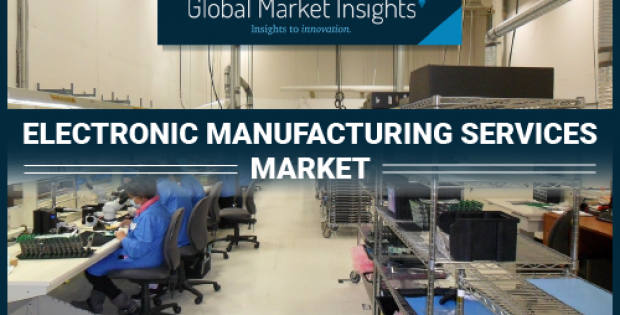 Propelled directly by an exponential rise in consumer as well as smart electronic device demands, the global electronics manufacturing services (EMS) market is expected to witness momentous revenue growth in forthcoming years.
In what way is the consumer electronics supply and demand environment anticipated to drive market growth?
Driven by the elevated disposable income levels, the consumer electronics industry is witnessing a significant rise in demands, especially for tablets and smartphones. To address growing demands several manufacturers are working towards reducing their Time-To-Market (TTM), specifically when it comes to new products. This enables OEMs to reach market shelves, and subsequently customers, earlier than their competitors, boosting their industry share and promoting EMS market growth.
Why is product quality expected to drive market growth in an industry with abundant demands?
The OEMs operating in the consumer electronics industry find themselves in a unique situation today. Despite high customer demands, the enterprises are forced to prioritize on quality first rather than quantity. High level of general awareness among customers and an extremely competitive market landscape means that, if a new product gains the reputation of being unreliable or showcases an overall lack in quality, the company stands to lose its customer base in an instant.
To avoid this pitfall many enterprises strive to ensure quality of their product using several rigorous testing procedures through the enhanced capabilities allotted to them by the EMS, which further drives growth into the EMS market.
To access a sample copy or view the electronic manufacturing services market report in detail along with the table of contents, please click the link below: https://www.gminsights.com/request-sample/detail/2971
What role would the automotive sector play in driving industry growth?
Today, digital transformation trends boast of a tight grip on the automotive industry, with potential customers increasingly making vehicle purchases based on the number of electronic devices as well as components incorporated in any vehicle. Additionally, increasing use of automotive electronics such as sensors, cameras, ECUs and infotainment systems to enhance vehicle safety and passenger comfort are creating further demands for EMS.
This trend would be consolidating the automotive industry as the biggest proponent of EMS market growth in coming years. Estimates claim EMS industry size from automotive applications to register a CAGR of 5% over 2018-2024.
Overall, supported by favorable supply and demand conditions, industry players' focus towards quality and the revenue stream provided by the automotive industry, it is safe to say, EMS industry would be witnessing increasing gains over the coming years.