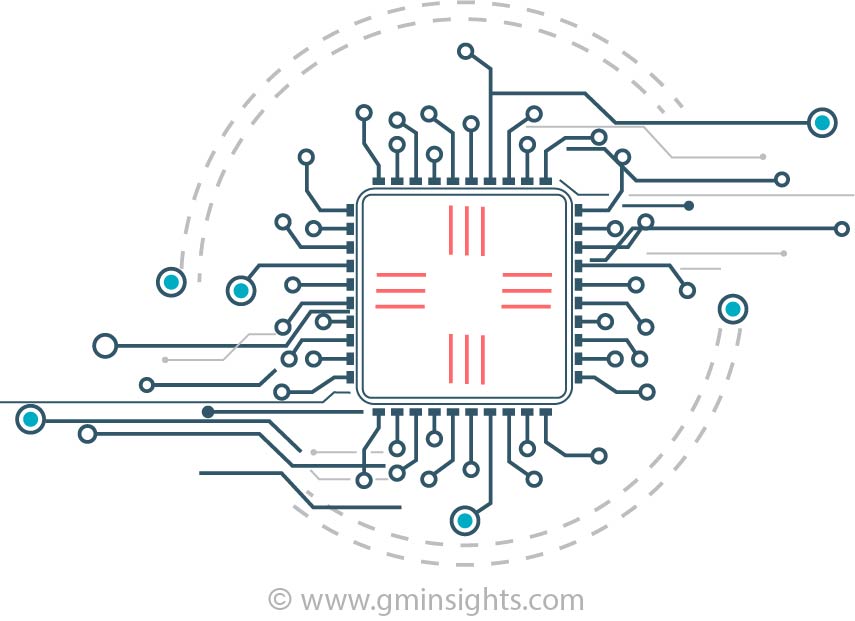 Embedded System Market is likely to be valued USD 258.72 billion by 2023, as per a new research report by Global Market Insights, Inc. Mounting need mainly from application sectors such as healthcare as well as automotive is expected to drive demand. In addition, emergence of IoT is anticipated to fuel industry growth.
Embedded hardware system market was valued USD 154.82 billion in 2015 and is anticipated to observe significant gains, with USD 240.11 billion at a CAGR of 5.5% from 2016 to 2023. Technological innovation and advancement in emerging nations such as Russia, India, China, Brazil and Taiwan is likely to spur growth. Embedded software was valued at USD 10.46 billion in 2015, and is anticipated to attain USD 18.61 billion by 2023, at an estimated CAGR of over 7.3% over the forecast period.
Technology innovation in wireless communications, software and digital processing is expected to positively impact embedded system market. Systems that effectively and efficiently drive the electronic contents within vehicles have also increased significantly in automotive sector. This assists safety systems on the highest priority by monitoring parameters such as tire inflation, antilock braking systems, remote keyless entry, antitheft and airbag systems. However, security risks related to the systems is anticipated to hinder the industry growth.
Consumer electronics is one of the key end-use sectors for this market. Proliferation of smart devices like smart phones, LED TVs, electronic and home appliances is likely to open new avenues for the market. At present, the consumer electronics sector is witnessing significant growth owing to technology trends like mobility, miniaturization and digitalization. Furthermore, growing demand for smart living with smart devices like advanced gaming consoles, portable devices like video players, sophisticated digital cameras, and home appliances including dishwashers, refrigerators, dryers, washing machines, air conditioners, and electric cookers is anticipated to fuel the market growth.
To access a sample copy or view the embedded system market report in detail along with the table of contents, please click the link below:www.gminsights.com/request-sample/detail/117
Following are the projected key trends:

Designing Secure Systems on Focus
Emergence of M2M Communication drives Demand for Embedded M2M Solutions
Smart devices and vehicles open up the application avenues
Growing Role of Electronic Control and Signaling in Railway Networks creates prospects
Advancement in Medical and Healthcare Boosts Market Opportunities
Automotive sector valued USD 34.64 billion in 2015 which is likely to attain USD 56.04 billion by 2023, growing at a CAGR of 6% from 2016 to 2023. Increasing acceptance of hybrid as well as electric vehicles in order to control emissions is likely to fuel the industry growth. Healthcare sector is likely to grow at a CAGR of 6.3% over the next few years. Rising need for portable medical devices in this application is predictable to boost the global growth. North America embedded system market is projected to be worth 84 billion at a growing CAGR of 5.7% in the near future. Europe is anticipated to pick up the pace during the projected period and surpass USD 62 billion over the predicted time frame. Asia Pacific market is likely to register USD 81 billion by 2023 owing to the largely available skillful professionals in software development. Key participants of the moderately competitive market include Renesas Electronics, Freescale Semiconductor, Microchip, Infineon Technologies, Atmel Corporation, Samsung, STMicroelectronics and Texas Instruments.