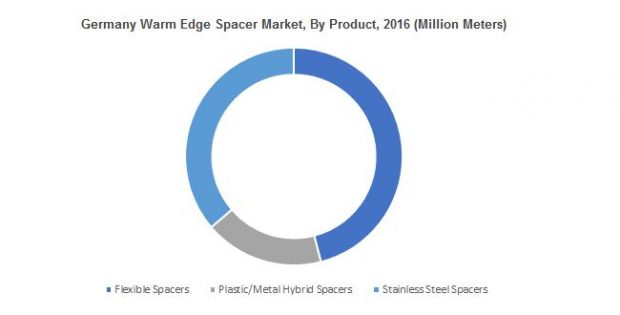 Europe Warm Edge Spacer Market is set to grow from its current market value of more than $100 million to over $250 million by 2024; according to a new research report by Global Market Insights, Inc. Growing measures to curb the carbon and sulphur emissions level will positively drive the warm edge spacer market growth. Improvement in living standards in the past two decades augmented the demand for air conditioning systems which subsequently contributes to high emissions including greenhouse gases. In 2016, over 5% of the residential and 27% of non-residential buildings in Europe were air-conditioned. In 2014, France has introduced its energy efficiency action plan pursuant to Article 3 of Directive 2012/27/EU in line with reducing fuel consumption to 131.4 Mtep by 2020.
Escalating demand for glazing windows as opposed to their traditional counterparts coupled with the strict governmental norms to enhance energy efficiency will result in the steep expansion of Turkey warm edge spacer market. High popularity of energy efficient devices owing to the need for saving energy will further augment market demand. Supportive government incentives and subsides for encouraging the purchase of energy efficient items will also push Poland industry revenue, thereby driving Europe warm edge spacer market.
To access a sample copy or view the Europe warm edge spacer market report in detail along with the table of contents, please click the link below: www.gminsights.com/request-sample/detail/1353
Europe warm edge spacer market is on its way to chart out a lucrative business path, subject to the strict norms for controlling GHG emissions in the atmosphere. Warm edge spacers provide high thermal insulation and monitor the window sealing's energy losses, thereby reducing carbon emissions from commercial buildings. The thriving energy efficient windows market will favorably leverage the business roadmap for Europe warm edge s[acer market. As per the European Commission, constructions account for 40% of overall energy consumption and contribute towards 36% of carbon dioxide emissions in Europe. Hence, the EC has introduced the Energy Performance of Buildings Directive in 2010 and the Energy Efficiency Directive in 2012 for energy conservation of buildings. In November 2016, it made changes in its 2010 Energy Performance of Buildings Directive, according to which all new constructions must be zero energy emission compliant by 2020.
Germany warm edge spacer market is set to exceed 100 million meters in terms of unit shipment by 2024. German fenestration industry is steadily gravitating towards manufacturing energy efficient products to comply with the rigorous legislations including the Passive House (Passivhaus) Standard. Strict energy performance directives coupled with EU target for zero emission buildings by 2020 will further complement the industry growth. The country is a host to numerous leading manufacturers and distributors including Technoform, SWISSPACER and Quanex facilitating the upgradation of the business.
Both the residential and commercial infrastructures are heftily contributing to Europe warm edge spacer market share. Both the building structures are reported to be responsible for over 20% of the overall GHG emissions. Europe warm edge spacer market size in residential sector are forecast to register an annual growth rate of 12% over 2016-2024. Increasing focus toward curbing UV radiations, reducing environmental degradations, and enhancing temperature & energy performance are the key factors promoting the application demand. Commercial infrastructure will also be a major segment in the application landscape over the coming years with a target market size of 100 million meters by 2024.
With reference to the regional landscape, all the member countries are actively partaking in Europe warm edge space market share battle. The stringent norms by the government and regulatory bodies coupled with high demand for energy conservation are the factors driving the regional market dynamics. Germany will be a major region in Europe warm edge spacer market with a projected market size of 100 million meters by 2024. The march toward zero emission buildings and presence of leading distributors and manufacturers such as Technoform Glass Insulation Holding GmbH, etc.
Browse Full Reports: www.gminsights.com/industry-analysis/europe-warm-edge-spacer-market