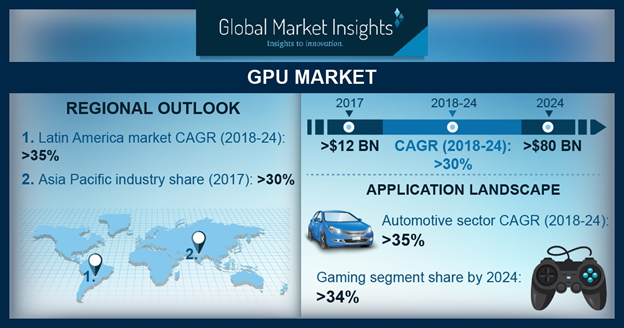 The GPU Market growth is attributed to a surge in the adoption of the IoT in industrial and automotive sectors. As the IoT devices gather huge amounts of data that needs to be tracked and analyzed, the demand for high-end computing system increases. This further propels the need for GPUs that provide the requisite support for analyzing complex datasets in a quick manner. Other factors fueling the GPU Market growth include various government-led investments in the semi-conductor industry and a rise in the uptake of the AI technology to drive innovations in sectors such as healthcare, automotive, and manufacturing.
It is expected that clinical health AI applications will create around USD 150 billion in annual savings for the U.S. healthcare industry by 2026. The increasing popularity of AI-based applications will compel GPU manufactures to develop new GPUs that run intensive machine learning algorithms efficiently. However, a declining market for cryptocurrency will affect the GPU Market growth. Miners need high-end computing processors to build machines that mine bitcoin. As the value of value of cryptocurrency is declining, the demand for GPUs has also decreased to a greater extent.
The GPU software market is projected to hold a market share of around 20% in 2024. CAM/CAD software is projected to hold a market share of over 40% in 2024 owing to the extensive use of these software in designing and manufacturing prototypes. Organizations first need to create visual effects for developing their products and then turn the designs into realistic products. As these software programs are extremely graphics-intensive, the demand for GPU-powered supercomputers will increase to support advanced computing capabilities required for the generation of models.
The integration & maintenance service segment is expected to hold a market share of over 35% in 2024. Organizations are rapidly using GPUs to accelerate the performance of their computing systems. The use of graphics-intensive applications utilizing AI compels them to ensure that GPU-accelerated containers match the requirements for deep learning software and are embedded properly. Thus, to ensure that their systems are up-to-date and delivering a high performance, the demand for integration & maintenance services increases.
To access a sample copy or view the GPU market report in detail along with the table of contents, please click the link below: www.gminsights.com/request-sample/detail/3088 
The gaming application segment is expected to hold a major share of the GPU market accounting for over 34% by 2024. This market growth is attributed to the growing demand for high-resolution games. Tablet and smartphone penetration are fueling the growth of the gaming industry. For instance, according to the ESAC Report 2018, 80% of Canadians view video games as mainstream entertainment. Around 30% of Canadian gamers have purchased a digital download of the full game in the past 6 months.
According to the Germany Trade & Invest Report, Issue 2016/2017, in Germany, PCs remained the biggest gaming platforms with 18.4 million active gamers, followed by smartphones (17.2million), consoles (15.6 million), tablets (11.5 million), and handheld devices (8.3 million). The growing use of gaming devices and popularity of online gaming fuels the demand for advanced graphic systems to support graphics-intensive gaming applications.
The Latin America GPU market is expected to exhibit the fastest growth rate with a CAGR over 35% from 2018 to 2024. The (graphic processing unit) GPU market growth is attributed to the profound growth of the gaming industry in countries including Brazil and Mexico. A rise in the sales of smartphones, PCs, and tablets is also fueling the gaming industry growth.
Some of the most preferred brands that have made a mark in the GPU industry include Nvidia, AMD, Intel, Microsoft, Google, IBM, PTC, Qualcomm, and S3 Graphics. GPU chip makers have been making heavy investments in addition to forging partnerships for developing new and better performing products. For instance, in January 2019, Nvidia announced its partnership with luxury carmaker Mercedes-Benz to develop a new automotive AI platform that could effectively offer control to the automaker's electronic gears equipped in its new car segments.