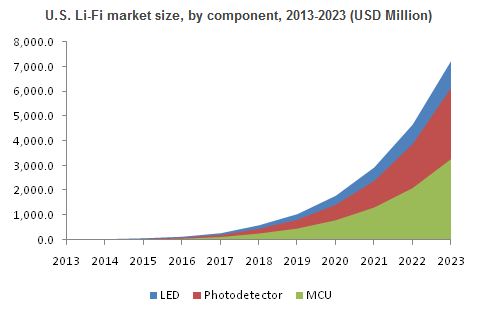 As per a new research report by Global Market Insights, Inc., Li-Fi Market size is anticipated to reach USD 75.5 billion by 2023. Increasing 3G and 4G technology demand and the impending RF spectrum crunch will drive the global Li-Fi market. Since it uses the visible light spectrum, the technology is expected to complement Wi-Fi in environments where the latter is not suitable. This includes environments such as healthcare, where data security is paramount.
Significant LED infrastructure driven by reducing prices, high degree of energy efficiency, and high installation in residential as well as public spaces will prove beneficial to Li-Fi market size in the coming years. Megatrends such as Industry 4.0 and significant growth prospects in the IoT market will present high profitability avenues.
U.S. Li-Fi market exceeded USD 150 million in 2015. Europe will witness high adoption rate with considerable technology innovations. Li-Fi market players include Purelifi Ltd, Philips, Oledcomm, ByteLight, Visilink, GE, LVX, Velmenni, etc. Increasing number of participants provide technological differentiation and innovations.
(Light Fidelity) Li-Fi Market is expected to grow at over 80% owing to increase in adoption of communication technology coupled with energy efficient lighting solutions during the forecast timeframe.
To access a sample copy or view the Li-Fi market report in detail along with the table of contents, please click the link below:www.gminsights.com/request-sample/detail/462
LED technology is utilised due to benefits offered such as minimal maintenance, long life span and high efficiency for data transfer at high speeds. Countries have taken necessary initiatives for the adoption of LED technology to conserve energy. Government supports LED industry by providing OEMs with financial subsidies, incentives and resources for improving manufacturing processes which in turn will drive the Li-Fi market.
Technology involves visible light instead of radio waves to reduce the negative impact on population. Moreover, it provides various features such as massive bandwidth, availability, energy efficiency and security which offers solution to increased data rates and spectrum crisis which will enhance the Li-Fi market in giving stable internet services.
Increasing data production and usage will lead the usage of RF based networks and wireless optical network. Flourishing demand from medical centres, educational institutes and hospitals is witnessed. Healthcare sector is estimated to reach over USD 2.5 billion by 2023 owing to reduction of electromagnetic radiations and patient data sharing inter-department at high speed rates. High adoption rate for wireless communication will support the Li-Fi market growth.
Less awareness among the individuals may limit adoption of the technology in the upcoming years. Technical issues such as light cannot penetrate the walls, sunlight interfering the signals, outdoor signal interception, and location limitations may act as a challenge for the Li-Fi market.
Integration of technology with solar panels will create self-powered receivers opening the routes for backhaul, rural broadband, Internet of Things and low cost beacons. In addition, intrinsically safe environments which cannot implement Wi-Fi will support the nascent technology.
The LED industry is expected to exceed USD 30 billion by 2023 owing to government support for energy conservation. Location based services is expected to grow at over 75% CAGR during the forecast timeframe. This service enhances shopping experience by giving accurate information about the location and current offers on products available in the store which in turn helps the owners to manage the inventory.