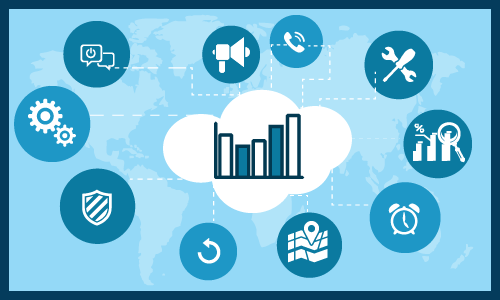 According to research report by Global Market Insights, Inc., GPU market will surpass USD 80 billion by 2024.
Ever increasing demand for advanced graphics processing across several sectors is majorly driving the graphics processing unit GPU market trends. GPUs play a key role in running graphics intensive applications such as gaming, image processing, 3D visualization, VFX, animations and many more among others. These applications require massive calculations which cannot be done by the CPU alone.
When compared from the perspective of data processing a GPU appears to be like a mega truck which can take over much load in a single instance, while the CPU can be termed as a small pickup truck with lower capacity to carry only the small loads at a time.
Introduction of self-learning technologies such as Artificial Intelligence (AI) and Virtual Reality (VR) will foster the high demand for graphics cards during the forecast period. VR applications necessitates a combination of extremely powerful GPUs and CPUs to minimize latency issues and provide better overall image quality.
Get sample copy of this research report @ https://www.decresearch.com/request-sample/detail/3088
Since their humble inception in early 1970s, video games have evolved from extremely simple interactions that utilized simple geometric shapes to full-blown extremely immersive cinematic experiences that captivate the senses. According to nonprofit organization Consumer Reports, the first video game to take advantage of the GPU technology was 'Quake' in 1996. Though the game ran smoothly by just depending on the computing capabilities of the CPU, handing over the graphics rendering responsibilities to the GPU transformed the game into a graphical experience that is still fondly remembered to date.
As for modern-day video games, it is no secret that they all require an extremely powerful graphics card just to be able to get past the loading screen. This highly GPU-dependent sector would thus be majorly propelling the global GPU market in the years to come. The video game industry's growth is such that the now-infamous 2018 video game Red Dead Redemption 2, which was developed by Rockstar Studios, recoded sales worth an unprecedented $725 million within the first three days of its release. This achievement makes it the second-biggest entertainment launch in history, behind the equally infamous Rockstar Studio-developed video game Grand Theft Auto 5, which recorded $1 billion in sales within the first three days of its launch in 2013.
The robust popularity of video games has led to GPU market players capitalizing extensively on the subsequent demand for gaming consoles. Indeed, the ESAC Report 2018 claims that around 80% of Canadians consider video games to be a mainstream entertainment. The Germany Trade & Invest Report (Issue 2016/2017) states that consoles were one of the biggest gaming platforms for the year, with a registered 15.6 million active gamers for the segment. The rising popularity of gaming will thus lead to GPU market garnering quite some returns from gaming console sales.
List of the Key Companies that are Operating in the GPU Market. They are as follows:
Axis Communications AB, Countwise, DILAX Intelcom GmbH, Eurotech, FLIR Systems, Inc., IEE S.A., Infodev Electronic Designers International, Inc., InfraRed Integrated Systems Ltd., Iris-GmbH Infrared & Intelligent Sensors, HELLA Aglaia Mobile Vision GmbH, RetailNext, Inc., ShopperTrak, V-Count, XOVIS AG
According to a report by Automotive World, deep learning is an element of artificial intelligence (AI) possessing the capability to fulfil the role of an essential enabler that could make completely autonomous vehicles a reality. This software, however, needs to be able to parse vast amounts of data which requires extensive computing power. Previously this had limited the technology from being adopted for practical applications, but the rise of GPU accelerated computing has allowed the industry to overcome this limitation, opening up considerable avenues of growth for the global GPU market.
Request for Customization of this report @ https://www.decresearch.com/roc/3088
Table Of Content:
Chapter 6. GPU Market, By Deployment Model
6.1. Key trends in the GPU, by deployment model
6.2. Public cloud
6.2.1. Public cloud market, 2014 - 2025
6.3. Private cloud
6.3.1. Private cloud market, 2014 - 2025
6.4. Hybrid cloud
6.4.1. Hybrid cloud market, 2014 - 2025
Chapter 7. GPU Market, By Service Model
7.1. Key trends in the GPU, by service model
7.2. SaaS
7.2.1. SaaS market, 2014 - 2025
7.3. PaaS
7.3.1. PaaS market, 2014 - 2025
7.4. IaaS
7.4.1. IaaS market, 2014 - 2025
Chapter 8. GPU Market, By Application
8.1. Key trends in the GPU, by application
8.2. Gaming
8.2.1. Gaming market, 2014 – 2025
8.3. Cryptocurrency mining market
8.3.1. Cryptocurrency mining market, 2014 - 2025
8.4. Design & manufacturing
8.4.1. Design & manufacturing market, 2014 - 2025
8.5. Automotive
8.5.1. Automotive market, 2014 - 2025
8.6. Real estate
8.6.1. Real estate market, 2014 - 2025
8.7. Healthcare
8.7.1. Healthcare market, 2014 - 2025
8.8. Others
8.8.1. Others market, 2014 - 2025
Browse complete Table of Contents (ToC) of this research report @ https://www.decresearch.com/toc/detail/gpu-as-a-service-market
About Us: - DecResearch.com, powered by GMI, is an online aggregator of information on market research reports. The website provides comprehensive information as well as a detailed 'Table of Contents' for reports being regularly published by GMI. Via this platform, users not only get to answers to their questions about these reports, they also have an additional avenue to talk to the sales and research teams of GMI to learn more about the topics of their interest.
Contact Us: -
DecResearch.com
Website: - https://www.decresearch.com/
Email: [email protected]