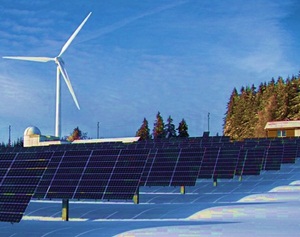 Hybrid Power SolutionsMarketgrowth will be driven by increasing adoption of sustainable building codes and standards pertaining toenergyefficiency along with development of advanced energy solutions for environment friendly buildings. In addition, the increasing adoption of low cost, smart integratedtechnologiesand energy efficient systems will impact product adoption. According to a new research report by the market research and strategy consulting firm, Global Market Insights, Inc, the Hybrid Power Solutions Market will exceed USD 60 Billion by 2024. Growing demand for reliable and uninterruptible power coupled with increasing focus toward the grid integration of renewable energy will boost the hybrid power solutions market.
In this regard, recently India's Ministry of New and Renewable Energy (MNRE) recently enforced a new National Wind-Solar Hybrid Policy. Reportedly, this newly launched regulatory framework would be promoting huge grid-connected wind-solar Photovoltaics hybrid systems, in a bid to efficiently utilize the existing transmission capacity of the country. Needless to mention, these kind of regulatory initiatives have played a pivotal role in proliferating hybrid power solutions industry trends.
Ambitious renewable energy (RE) capacity addition targets coupled with the abundant availability of solar and wind energy will drive the hybrid solar wind market growth. Technological advancement coupled with introduction of norms to reduce carbon footprints will stimulate the business growth. In 2017, Vestas announced the development of world's largest utility-scale solar-wind project comprising of 43.2 MW of wind and 15 MW of solar capacity.
To access a sample copy or view the hybrid power solutions market report in detail along with the table of contents, please click the link below:www.gminsights.com/request-sample/detail/2552
U.S. hybrid power solutions market has witnessed the cumulative capacity generation of 900 MW by 2024. Schemes including FIT, carbon credit, and green bonds have provided an impetus toward the installation of wind-solar plants, which will further complement the hybrid power solutions market hybrid power solutions market outlook. In 2018, Kauai Island Utility Cooperative (KIUC) has announced the deployment of solar storage hybrid project which will reduce the utility's peak fossil fuel generation by 55 MW.
UK hybrid power solutions market is predicted to grow over 5% by 2024. Government focus toward raising the dependency on sustainable and effective power generation to achieve green energy economy structure will positively impact the hybrid power solutions market growth. Developers across the region are working aggressively toward the enhancement of CUF for their existing power plants.
China hybrid power solutions market is anticipated to grow over 3% by 2024. Growing funding toward the deployment of clean energy sources to reduce carbon footprints along with introduction of various targets to overcome the rising electricity demand will embellish the industry growth. In 2015, the government of China has introduced a solar wind system, with an overall capacity of 300 MW that aims to meet the electricity demand by serving 2000 people across the region.
Standalone hybrid power solutions market is set to grow on account of rising demand for reliable and safe electricity supply primarily across remote off-grid areas. In 2017, Juhl energy announced the development of community based solar-wind hybrid project in U.S. with an overall capacity of 4.5 MW. Growing demand for renewable energy, the need for improving grid reliability and stability, and low installation costs are some of the prominent features that make its adoption viable.
Declining manufacturing costs of wind turbines, wind blades and solar panels owing to advancement of technology and economy of scale will drive the hybrid power solutions market. In 2016, the average nominal cost for the installation of small wind turbine was recorded from 7000 USD/kW to 7500 USD/kW. In 2016, the cost of PV module has witnessed a decline of 0.5% when compared to 2013.
Solar wind diesel hybrid power solutions market is predicted to exceed the cumulative capacity of 200 MW by 2024. Rising demand for effective and reliable power supply primarily across remote areas having abundant availability of solar & wind energy will augment the industry outlook. The growing adoption of renewable energy systems coupled with government initiatives to promote sustainable technologies will further propel the business growth.