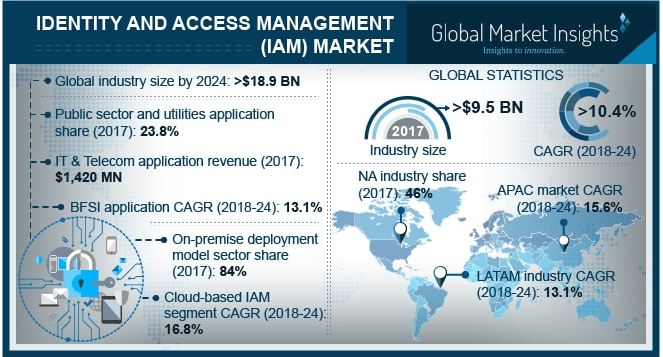 Identity and Access Management Market in The BFSI segment is growing at the fastest rate as the banks and financial institutions carry sensitive customer information, ensuring an extremely secure environment as any kind of security breach can be costly and devastating. To improve the IAM security, the BFSI industry is adopting an efficient process by integrating multi-factor authentication into their networks users account. Various steps are taken to safeguard the online transactions due to the rise in the adoption of mobile banking. Fingerprint activated payment systems are being installed in smartphones to safeguard online banking.
Identity and Access Management (IAM) Market is projected to surpass USD 18.9 billion by 2024. IAM products deliver role-based access control, allowing system administrators to regulate access to networks based on the role of the employees within the organization. It majorly focuses on ensuring that the partners, employees, and customers receive secure and simple access to the applications without compromising on security. The major benefits associated with the installation of IAM systems for the enterprises include reduced data breaches, centralized access control, reduced IT cost, and improved user experience.
The trend of connected devices such as BYOD is rapidly increasing, offering enhanced productivity, reduced hardware cost for organizations, and improved employee satisfaction. Moreover, increased mobile penetration, rising employee mobility software demand, and the increasing prominence of mobility service management are also driving the demand for IAM solutions. Employees, partners, and contractors are carrying personal devices to the workplace to connect with the corporate network. Around 70% of the organizations have adopted the BYOD trend, which is anticipated to rise over the forecast timeline.
To access a sample copy or view the identity and access management market report in detail along with the table of contents, please click the link below:www.gminsights.com/request-sample/detail/176
The provisioning solution dominates the identity and access management market and held around 40.7% of the market share in 2017. This solution delivers employees, clients, and other stakeholders with enhanced IAM features to manage the provisioning and de-provisioning of various computing resources. The rising demand for reliable provisioning solutions and the increasing traction of risk mitigation and security also have a positive impact on the identity and access management market growth. Provisioning solutions are adopted in diverse industrial application to support digital identity creation, validation, approval, change, termination, propagation, and communication.
The on-premise deployment model dominates the identity and access management market with a market revenue of USD 8.08 billion in 2017 anticipated to reach USD 14.6 billion by 2024. The on-premise delivers continuous and secured access to various applications throughout the enterprise. These solutions perform various tasks such as securing identity and attribute stores, identity data synchronization, external access control for applications, and user provisioning, driving their growth in the market. However, as this model is mainly suitable for large organizations, which have enterprise-wide entitlements and applications, enterprises are now shifting toward the cloud-based IAM models.
The cloud-based deployment model is projected to grow at the fastest rate due to the rising demand for cost-effective, scalable, and flexible IAM solutions. The growing trend of BYOD and various enterprise mobility solutions has also resulted in a large cloud IAM adoption rate by enterprises to manage remote access services. The enterprises also suffer through huge losses due to cyberattacks, increasing the demand for cloud-based solutions delivering enhanced IAM security.
APAC identity and access management market demand will be driven by increasing penetration of smartphones, cloud-based solutions, substantial development along with rising adoption of BYOD. The IoT adoption in 2013 was around 12 percent, which reached around 36 percent in 2017. Furthermore, as the region showcases huge growth potential, various companies operating in the IAM market are expanding their presence in this region to gain a higher customer base.
North America is projected to dominate the market as IAM solutions have gained importance in different sectors such as BFSI, healthcare, telecom, and utilities in this region. Furthermore, technological advancements in the IoT and cloud computing technologies followed by increased usage of smartphones are also driving the identity and access management market growth.