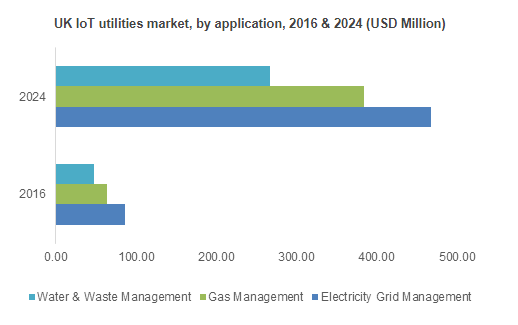 Asia Pacific IoT utilities industry will witness substantial growth over the forecast timeline. The growth can be credited to the presence of large number of electricity & gas production facilities across the region. Growing adoption of digital technology followed by the increasing rate of use cases across the sector further contributes to the industry demand.
IoT Utilities Market is expected to grow at a double digit CAGR to reach USD 15 billion by 2024. Increasing concerns for efficient usage of energy sources to meet the growing energy demand will drive the IoT utilities market growth over the forecast timeline.
The technology has huge potential to transform the power sector pertaining to the benefits such as obtaining visibility into business processes in real-time. Furthermore, growing demand for improvising the operational efficiency in the sector is providing impetus to the industry demand.
Rising adoption of cloud platforms across the sector coupled with government initiatives for smart grid modernization across the U.S., UK, China and India provides lucrative growth opportunities to the IoT utilities market. For instance, smart grid modernization initiative by Indian MNC Crompton Greaves, NDPL offer significant opportunities to the industry.
Smart grids allow the efficient & timely distribution of generated energy providing security & reliability to the users. It has the potential to reshape the electric power grid with the use of the technology by integration of devices, processes and the infrastructure making it a more connected process.
Increasing number of cyber-attacks accessing highly confidential data is expected to curb the rate of implementation of such technology. Absence of skilled workforce followed by the lack of proper standards might limit the IoT utilities market growth over the forecast timeline.
To access a sample copy or view the IoT Utilities Market report in detail along with the table of contents, please click the link below: www.gminsights.com/request-sample/detail/2099 
Rising need for monitoring facilities located in areas inaccessible manually is expected to fuel the IoT utilities market growth. In addition, increasing demand to monitor the status of worker's health leads to the huge demand for sophisticated sensor devices. Sensors are deployed at multiple check points across the facility to gain visibility into every equipment and processes. It provides insights to identify any kind of leakage & damaged infrastructure resulting in timely repair.
Heavy investments by the utility companies across the region to upgrade energy infrastructure is boosting the consumption. However, North America IoT utilities market will grow considerably owing to increasing demand for smart solutions coupled with the presence of advanced infrastructure across the region.
Companies operating in the IoT utilities market include IBM Corporation, Cisco Systems Inc., Intel Corporation, Huawei Technologies Inc., Honeywell International Inc., Trilliant Inc., Microsoft Corporation, Osisoft LLC and General Electric. These technological solutions are considered as a necessity for the sector eliminating the need for physical visit for fault detection and restoration. The companies are investing heavily on R&D for fully connected solutions covering every aspect of the sector.