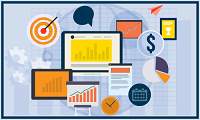 IP Camera Market is projected to exceed USD 20 billion by 2024. Growing need for intelligent security systems in the light of increasing criminal activities is expected to propel network camera market growth. Instances of illicit drug dealing, robbery, and terrorist activities are increasing owing to the worsening economic conditions and unemployment. This has resulted in the tightening of security across household, industrial, and commercial sectors. This is expected to accelerate the demand for these devices over the forecast timespan.
IP camera market is expected to gain traction over the next seven years owing to the increasing use of these devices in applications such as senior citizen monitoring, baby monitoring, and pet monitoring. Customers prefer a cost-effective option of IP cameras over the costlier baby or nanny cams. These devices enable the parents to view their child's activity through web-enabled smartphone, laptops, or iPads. Furthermore, these devices are being widely used by small businesses such as a small retail stores or small warehouses as these require low-cost investment and easy installation.
These devices are being increasingly used in solving crimes and providing growth prospects in both public and private spaces. The videos captured by these devices are considered as the legal proof to investigate crimes in several countries including the UK, the U.S., India, and China. The effectiveness of these systems to deter crime has increased the adoption of these devices drastically. In June 2017, a lawyer based in the U.S. used these devices to call the emergency helpline when his security system notified him of two suspects entering his house. Such instances are providing ample growth opportunities for the network camera market.
The increasing threat of hackers and data privacy issues are expected to hinder the network camera market growth. Several devices connected to the internet have serious weaknesses in terms of security. Furthermore, the vendors are selling the configured devices using their dynamic DNS services. For instance, Foscam assigns their devices a hostname appended with myfoscam.org. This becomes easy for a hacker to identify these devices together on the internet.
To access a sample copy or view the IP camera market report in detail along with the table of contents, please click the link below: www.gminsights.com/request-sample/detail/2410 
Commercial IP camera market is expected to gain momentum over the forecast time span owing to growing applications in industries, retail stores, and healthcare & educational institutions. Commercial buildings are becoming equipped with Wi-Fi networks, which makes it easier to install these devices for enhanced security. Penetration of technologies, such as cloud back-up and artificial intelligence, is expected to increase the adoption of network camera market across commercial applications.
The regional battle is anticipated to take a turn in the ensuing years with Asia Pacific showing signs of being the next major investment hotbed for IP camera industry players. Smart city initiatives in the region is projected to be a major driver for the APAC IP camera market, driven by huge demand for deployment of these networked cameras in the connected infrastructure. From the recent product launches witnessed across this fraternity, it is quite certain that APAC is ready to give a major competition to the United States, with regard to the procurement of the revenue share. As per recent trends, India, China, Taiwan, South Korea, Australia are slated to be the chief revenue pockets for Asia Pacific IP camera market. Below are some of the initiatives which led APAC to generate a substantial momentum in the global IP camera industry landscape:
Key vendors in the IP camera market include Bosch Security Systems, Dahua Technology, Hikvision Digital Technology, Panasonic Security System, Samsung Techwin, Shenzhen Smarteye Digital Electronics Co., Ltd., Axis Communications, and Sony Professional. The players are investing in research and development to enhance the features in these devices to increase the applicability and end-consumer appeal. For instance, in 2012, Shenzhen Smarteye Digital Electronics Co., Ltd. built cloud servers in the EU, the U.S., Hong Kong, and Singapore to form cloud IP camera series.