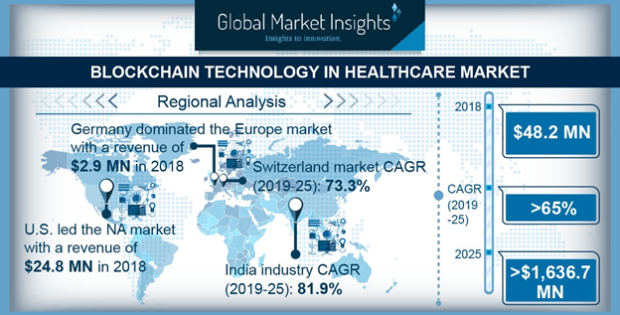 Global Blockchain Technology in Healthcare Market is set to exceed USD 1,636.7 million by 2025; according to a new research study published by Global Market Insights, Inc. Increase in cost savings for several healthcare applications with the help of blockchain technology will drive the business growth in the forthcoming years. Blockchain is a recognized technology that is helping healthcare facilities save huge amount of money from frauds, counterfeit drugs and hence, positively impact the outcomes of healthcare. Healthcare data breaches cost around USD 380 per patient record, resulting in high annual losses. Hence, implementation of blockchain technology in healthcare will help save billions of dollars.
Growing application of Internet of Things (IoT) in healthcare will result in huge demand and adoption rate of blockchain technology. Most of the leading players are using blockchain and IoT to improve patient results and optimize internal operations. Several benefits such as real-time information and location of digital X-ray equipment in healthcare facilities will augment the blockchain demand across the globe. Increase in use of IoT for clinical services and clinical settings will boost the business growth in the forthcoming years.
Request for a sample of this research report @ www.gminsights.com/request-sample/detail/3098
Application of blockchain technology in data exchange and interoperability amounted to around USD 19.3 million in the year 2018. In the last few years, a significant amount of healthcare facilities have adopted Electronic Health Records (EHR), leading to advancements in digitizing healthcare system. Increase in number of volume-based medical practices such as hospitalizations, consultations, prescriptions and procedures have resulted in boosting the demand and adoption rate of blockchain technology in healthcare in order to safeguard the data. Hence, growing digitization in healthcare system has resulted in high demand for interoperability, augmenting the business growth.
How has blockchain technology proven to be an influential factor for BFSI?
The banking, financial services, and insurance (BFSI)industry is included among the most prominent business spheres that have successfully implemented the blockchain. The deployment of this technology has helped BFSI contenders reduce the infrastructure cost, owing to its capability of secure trading and cross-border payments. Taking into account the safety and financial benefits of blockchain, most of the banks are now looking forward to deploying compatible facilities alongside, which will favorably stimulate blockchain market size.
Validating the aforementioned fact, recently, the Bank of England updated its payments system to make it complement with blockchain technology. This announcement comes on the heels of BoE's efforts to modernize banking systems to handle transactions securely. In fact, the bank designed this blockchain supporting financial technology to reduce the number of cyberattacks that cause a nuisance while performing banking as well as trading operations.
Speaking more about the impact of initiatives taken by the giants in the banking industry on blockchain market, it would be imperative to state that some of the contenders of the former are looking forward to bringing revolutionary facilities given the large number of transactions that banks carry out per day. In fact, some of the banking and financial service companies are investing in the development of private blockchain platforms, which could have a significant influence on blockchain industry trends.
Citing an instance justifying the aforesaid, one of the largest UK based banks, Barclays, recently submitted a patent application regarding the development of a private blockchain platform that could be used for cryptocurrency transfer. The bank also plans to store customers' information on its private blockchain. The streamlined deployment of blockchain technology across the BFSI sector is poised to boost product demand over the years ahead. For the record, in 2017, BFSI emerged as the dominant segment in blockchain market by accounting for 60% of the business share.
In addition to securing financial transactions, blockchain technology has also been used for a plethora of other applications that prioritize data security. In fact, many of the telecom providers have been eyeing blockchain technology to implement the same for communication networks. Recently, the Japan-based telecommunication firm Nippon Telegraph and Telephone company revealed its plan to develop a blockchain technology based contract agreement system. The telecom giant will use the invention to store contracts in an encrypted and decentralized manner.
Make an inquiry for purchasing this report @ www.gminsights.com/inquiry-before-buying/3098
Indeed, since the last few years, many enterprises have deployed blockchain technology to store contract agreements, driven by which blockchain market size from smart contract applications is slated to grow at an annual growth rate of more than 80% over 2018-2024.
Speaking along the same lines, a few days before, the South Korean telecom behemoth, KT Corp launched a new blockchain technology assisted commercial network – a wireless technology that can be used for numerous services such as energy management, identity authentication and roaming. This technology restricted the use of the Internet and various new technologies such as the Internet of Things, that allows it reduces the chances of hacking and identity theft. In addition to this new launch, KT Corp is looking forward to using blockchain based identity authentication technology for electronic voting services and local currency.