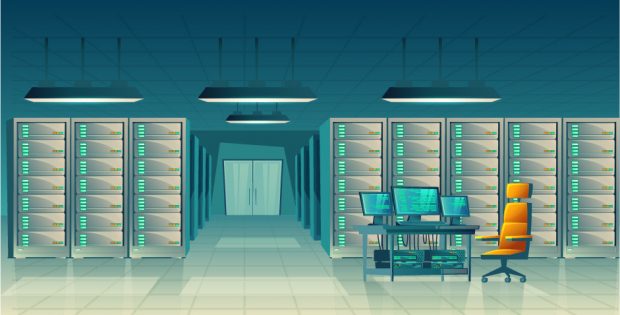 The North America hyperscale data center market is predicted to grow substantially over the coming years due to the increased interest of global companies such as Amazon, Facebook, and Google to establish and expand their business base in the region. Rapid urbanization and technological adoption are the major factors that are attracting these multinational companies to set up their large-scale facilities here. Moreover, the increased business competition in the region makes it necessary for global businesses to serve their customers effectively with better infrastructure technologies, augmenting the hyperscale data center market.
Pertaining to rapid technological advancements in IT & telecom sectors and the shift towards cloud infrastructure, hyperscale data center market has garnered commendable mainstream appreciation recently. Companies are nowadays relying more on cloud computing services as they offer several advantages such as enhanced application performance, efficiency, scalability & flexibility. However, this shift has led to high demand for computational power owing to which enterprises are increasingly outsourcing their data to third-party data centers in a bid to avoid investing on expensive hardware and thereby enhance business profitability.
To access a sample copy or view the hyperscale data center market report in detail along with the table of contents, please click the link below: https://www.gminsights.com/request-sample/detail/2594
The demand for rack-based Power Distribution Units (PDUs) is growing rapidly in the hyperscale data center market due to their high availability and high-power ratings features. These PDUs can be incorporated with all types of rackmount equipment without interrupting the power supply. It helps organization to reduce power consumption, thereby enhancing the efficiency of an IT facility. These solutions also help in reducing an organization's carbon footprint. It is being widely adopted by businesses for enhancing the business efficiency. For instance, in February 2019, Eaton Corporation launched its high-density rack PDU platform in North America with advanced configurability features for customers.
Moreover, increasing inclination of businesses toward colocation services will drive the hyperscale data center market growth over the forecast timespan. Enterprises are moving towards cost-effective techniques to reduce the overall capital expenditure of the business, encouraging them to depend on colocation facilities. High maintenance & installation costs of mega facilities will increase the total IT budget of businesses. Colocation facilities offer these enterprises IT space & solutions, reducing the high maintenance costs of hyperscale devices.
Increase in adoption of cloud-based services and rapid growth in smartphone and social media users in Asia Pacific is expected to drive the hyperscale data center market growth. The number of smartphone users is expected to cross 6 billion by 2025 with countries such as India, China, South Korea, Taiwan, and Indonesia being the major contributors. Businesses in the region are adopting data-intensive applications such as IoT, data analytics, AI services which needs high amount of data and large capital investments.
Key players operating in the hyperscale data center market include Broadcom Ltd., Cavium, Inc., Cisco Systems, Inc., Dell, Inc., Huawei Technologies Co., Ltd., IBM Corporation, Intel Corporation, Lenovo Group Ltd., Microsoft Corporation, NVIDIA Corporation, Sandisk LLC, and Schneider Electric SE, among others. Players in the industry are manufacturing business-specific solutions which enables customers to customize solutions based on enterprise requirements.
Browse Complete Report Summary @ https://www.gminsights.com/industry-analysis/hyperscale-data-center-market