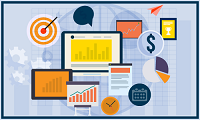 Outdoor LED Display Market growth positively boosted by Growing inclination of established corporate brands to advertise products with LED displays. Rising demand for billboards with wireless connections (for regularly changing content) and high-resolution displays for scoreboards, hoardings, stadium screens, etc., will fuel the industry trends. Market players often engage in product innovation to be able to cater to corporate demands. For instance, Panasonic, which is already an official partner of the Rio 2016 Olympics and the Rio 2016 Paralympics, recently announced that the company will supply large outdoor LED displays systems to the Live Site, an outdoor entertainment area in Rio de Janeiro, to enhance the audience experience of viewing the Games.
LED displays are manufactured with the help of PCBs, PBBs, LED tiles, LED lights, data collectors, driver chips, cabinets, and back covers. With advertising gaining high ground for company expansion, corporations are vying with one another to advertise their product offerings in the best ways. This leads to high demand for OLEDs for stadiums, traffic signals, weather forecast, corporate events, cabs, and video walls. According to Global Market Insights, Inc., "Outdoor LED Displays Market will be valued at USD 22.4 billion by 2024, growing at an impressive CAGR of more than 20% over 2016-2024."
Surface mounted technology is projected to grow with 26.5% CAGR from 2016 to 2024. Rising prominence of these devices may offer tough competition to conventional systems in the coming years. Advent of projector as well as LCD technology is anticipated to negatively impact demand. However, rising preference for energy efficient device, evolving screen dynamics and low operating costs may fuel outdoor LED display market share for various advertisement and sports events.
Electronic signs used in billboards display multiple messages, and these messages can be changed either remotely or by programming the display on the site. Growing demand for electronic billboards over printed billboards with rising number of advertisements will be responsible for driving outdoor LED display market. As the cost of billboards continues to decrease, growth in developing economies could boost sales significantly.
To access a sample copy or view the outdoor LED display market report in detail along with the table of contents, please click the link below: www.gminsights.com/request-sample/detail/717 
Features such as high cost-effectiveness, incredible visibility and dynamic content will drive growth in the billboards segment. Traffic lights accounted for more than 11.5% of the global outdoor LED display market share and is forecast to be valued over USD 1.95 billion by 2024. Growth in the segment can be dedicated to attributes such as ability to readily adopt to power supply changes, high energy efficiency and low maintenance cost.
Speaking of color displays, outdoor LEDs can be segmented into tri-color, monochrome, and full color displays. Tri-color outdoor LED displays market is projected to increase at an annual growth rate of 22.3% over 2016-2024, driven by the high product deployment in scoreboards and perimeter boards. The full-color displays model depicts animated content, high quality images, and high quality videos. Powered by these excellent features, these models are being increasingly implemented across myriad sectors, thereby fueling full color outdoor LED displays industry.
U.S. outdoor LED displays market will be valued for more than USD 2.5 billion by 2024, driven by growing implementation of LEDs across prime locations (Times Square and the Broadwalk). The deployment of interactive screens embedded with 3D technology at bus and train stations and the demand for custom-made solutions will also fuel industry growth over 2016-2024.
High infrastructural development coupled with the increased number of sporting events will act as the key drivers for China outdoor LED displays market, which registered a revenue of USD 1.18 billion in 2015.
India is emerging as a global sports hub, which will prompt the usage of outdoor LEDs for sporting events, stadiums, mobile panels, and billboard advertising. This, in turn will impel India outdoor LED displays industry growth over the years to come. Supported by India and China, APAC outdoor LED displays market, having recorded a revenue of more than USD 1 billion in 2015, will grow at a CAGR of 25% over 2016-2024.
Key players operating in outdoor LED displays market include Shenzhen Dicolor Optoelectronics, Leyard Optoelectronic, LG Electronics, Lighthouse Technologies, Barco NV, Sony, Toshiba, Electronic Displays Inc., Panasonic, Optoelectronics Inc., and Daktronics. It is predicted that these conglomerates will also offer solutions for every stage of the process, right from designing to manufacturing to installation, and then the advertising to after-sales services.