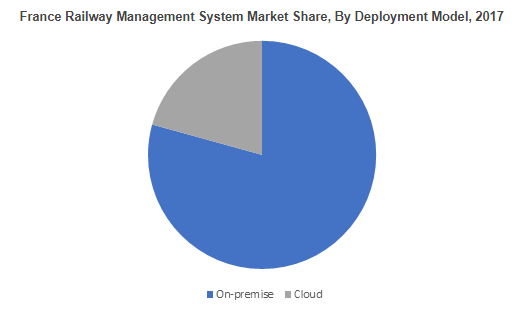 Europe dominates the railway management system market with a revenue of USD 13.41 billion in 2017. Europe is the chief accessible railway market worldwide with the rail operators residing in this region making strategic investments for automating their railway solutions. Railway operators are also focusing on working towards the renewal of high-speed trains as well as improving the railway infrastructure and urban transportation systems. Furthermore, signaling projects are also being initiated in various countries including Poland, Netherlands, Hungry and Portugal driving the market growth.
Request For Sample Copy Of This Report @ www.gminsights.com/request-sample/detail/3056
The on-premise deployment model holds the majority of the share in the railway management system market with a share of over 78% in 2017. These deployment models deliver enhanced flexibility in terms of data modifications, configurations and integration management driving their adoption in the market. However, the on-premise models require significant computing resources and large sensor networks due to which various rail authorities are now shifting towards cloud-based deployment models. For instance, VR a Finland based government owned railway company which operates around 6,000 kms of tracks is planning to move its all travel applications and website from on-premise to AWS cloud by the end of 2019.
The training and consulting service are projected to grow at a steady rate in the railway management system market. Various countries still in the development phase require efficient training and consulting services to implement the advanced railway management solutions contributing to their business profitability. These service providers assist in maximizing security and efficiency by providing effective consulting and safety training transforming the way rail operators carry out their business.
The railway traffic management system dominates the railway management system market with a market revenue of over USD 7 billion in 2017. This growth is attributed to the rising demand for smart transportation services and efficient rail traffic management. These systems assist in augmenting operation efficiency and improve the level of rail automation. Companies are working with various rail networks for developing traffic management tools thereby delivering augmented passenger experience. In September 2018, ETH Zurich and Swiss Federal Railways (SBB) launched an innovate traffic management solution thereby increasing the rail traffic capacity at reduced costs.
Make an inquiry before buying this report @ www.gminsights.com/inquiry-before-buying/3056
Railway Management System Market is projected to surpass USD 64 billion by 2024. Factors such as increasing importance of sustainability, changing demographics, stringent government regulations, macroeconomic and microeconomic conditions, and the rising importance of smart cities coupled with the incredible growth of telecommunication and the need for mobility are driving the market demand. Furthermore, the adoption of technologies and solutions such as IoT, cloud computing, big data analytics and automation have accelerated the digital transformation in the railway industry.
Railway companies in various countries have developed their digitalization initiatives and programs such as UIC digital platform, and Shift2Rail PPP to promote the digital transformation of railways. Hence, the automated rail is expected to be the future of transportation meeting the demands for capacity growth, optimizing operations and delivering services with enhanced safety and security.
Railway management systems require a huge capital investment due to the complete transformation of the existing infrastructure and transport systems. Many developing countries will not have the capability to bring about such transformations due to financial restraints acting as a challenge for the development of railway management solutions. Furthermore, immature market conditions and difficulty of integration with legacy systems also acts as a market growth barrier.
Browse Full Report Summary @ www.gminsights.com/industry-analysis/railway-management-system-market
The leading players functioning in the railway management system market include Cisco, Nokia, Hitachi, IBM, Huawei, Alstom, ABB, Atos, Eurotech, Bombardier, Indra, Tech Mahindra, Thales, Toshiba, Trimble, Siemens, Sierra, Optasense, Frequentis, Amadeus, Ansaldo, General Electric and EKE Electronics. The companies are entering into strategic partnerships to expand their business offerings and serve a larger customer base.