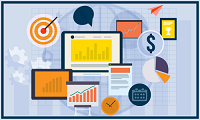 North America leads the Session Initiation Protocol (SIP) Trunking Services Market with an extensive deployment as businesses in the region are rapidly turning to SIP trunking to replace their legacy communication systems. Also, the availability of an excellent service network of major UC solution providers such as Microsoft and Cisco is enabling the successful implementation of SIP trunking infrastructure across organizations of all sizes in the U.S. and Canada.
SIP trunking eliminated the need for investing in additional PSTN gateway capacity as an enterprise's communication needs to grow. A SIP trunking edge device installed in an enterprise's communication network offers a lower investment path for incorporating new lines as they are typically cheaper per line compared to the corresponding traditional PSTN gateway. By delivering both voice and data over the same connection, SIP trunking significantly optimizes the bandwidth utilization. Using the service, an enterprise can make calls anywhere worldwide for the cost of a local call. This results in massive savings on telephony expenses, especially for small-scale enterprises.
SIP trunk is a service provided by the Internet Telephony Service Provider (ITSP) to set up communication between the ITSP and the enterprise Private Branch Exchange (PBX). Unlike traditional telephony services, where a service provider delivers bundles of physical wires to a business, SIP trunk allows companies to enable Public Switched Telephony Network (PSTN) connectivity through an IP network such as the internet.
There are also significant productivity benefits that enterprises can reap using SIP trunking. By extending the SIP capabilities of an enterprise network outside the LAN setup, mobile workers as well as the customers can efficiently use VoIP and similar types of real-time communication applications to communicate effectively, breaking down geographical barriers. Instead of operating and maintaining separate voice and data networks, one Ip-based network in the form of SIP trunking offers multiple digital streaming capabilities.
To request for an in-depth table of contents for session initiation protocol (SIP) trunking services market report, please click the link below: www.gminsights.com/request-toc/upcoming/3108
Businesses in the Asia Pacific region are aggressively undertaking digital transformation initiatives to modernize their communication infrastructure in a cost-effective manner. To enable reliable connectivity within and outside the organizations, the demand for SIP trunking services in emerging economies of the region is likely to accelerate during the forecast timeline. Advancements in network infrastructure will also play a key role in maintaining the pace of Session Initiation Protocol (SIP) Trunking Services Market growth during the forecast period.
The companies operating the Session Initiation Protocol (SIP) Trunking Services Market are focusing on commercializing comprehensive suite of SIP trunking services to enable their customers to modernize their enterprise communication workflows in a cost-effective manner. For instance, in January 2016, Tata Communications launched its flagship Global SIP Connect service in the form of a white-label solution for service providers. The offering enables service providers to extend their voice services to their customers through its robust UC portfolio and its global network reach.
Some of the key players operating in the Session Initiation Protocol (SIP) Trunking Services Market are 8x8, AT&T, BT Group, Bandwidth, Fusion, Colt, CenturyLink, IntelePeer, GTT Communications, Net2Phone, Mitel, Rogers Communications, Nextiva, Orange, Telstra, Tata Communications, Vodafone, Verizon, West Corporation, Voyant Communications, Windstream, and Sprint.