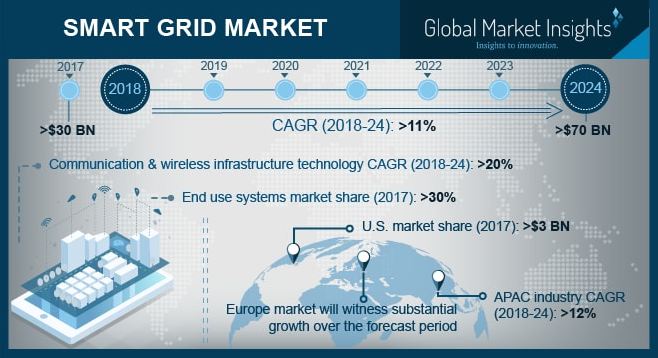 Smart Grid Market in UK will witness growth on account of supportive regulatory frameworks pertaining to energy conservation and environmental sustainability. The mandated nationwide rollouts and legislative directives toward smart meters will further fuel the industry growth. The Energy Networks Association (ENA) plans to implement a local energy market as part of their smart grid plan that would allow business and households to trade electricity, thereby supporting energy conservation. Smart Grid Market in U.S. industry was estimated over USD 3 billion in 2017. Frequent blackouts and the incessant need for energy conservation will augment the industry landscape. Implementation of grid automation programs to reinforce communication flexibility and distributed intelligence of the national power infrastructure will further fuel the industry growth.
Europe smart grid market will witness growth on account of substantial investments toward smart meter roll outs owing to favorable energy and climate policies. The EU aims at replacing atleast 80% of electricity meters with smart meters by 2020. The ongoing integration of renewable energy into power grids is further creating significant growth prospects in the region.
Global Smart Grid Market size was valued over USD 30 billion in 2017, and will surpass USD 70 Billion by 2024, as reported in the latest study by Global Market Insights, Inc. Ambitious government led plans toward grid modernization will drive the smart grid market size. Major countries have enforced regulations and mandates to reinforce smart grid deployments and R&D activities as a part of their energy conservation initiatives.
To access a sample copy or view the smart grid market report in detail along with the table of contents, please click the link below:www.gminsights.com/request-sample/detail/1365
Communication and wireless infrastructure smart grid market is anticipated to expand over 20% by 2024. Increasing need for IoT intervention to improve grid efficiency, customer services and demand management across power utilities will boost the product demand. Digitalizing the grid using advanced cloud computing technology and sensors aids in monitoring consumption patterns and provides real time information on electricity usage.
The use of control systems for several applications including substation automation, distribution automation, advanced outage management, and demand-side management is further strengthening the product demand.Growing investments toward grid digitalization through the implementation of advanced communication technologies will foster the market growth. Growing focus toward renewable grid integration coupled with intensifying need to upgrade ageing electricity infrastructure will further facilitate the large-scale deployment of these grids.
Communication & wireless infrastructure smart grid market is predicted to expand over 20% by 2024. The ability of wireless based IoT equipped sensors to enhance grid monitoring capabilities will significantly encourage their adoption across power utilities. Growing implementation of advanced communication technologies to provide real time monitoring with customer load control will positively influence the industry scenario.
Growing energy demand accompanied by rising concerns pertaining to unplanned power outages and environment protection will drive the smart grid market growth. Substantial influx of digital technologies, including the Internet of Things(IoT) will positively impact the business scenario. Extensive and sturdy deployment of smart meters across utilities will further strengthen the need for smart grid.