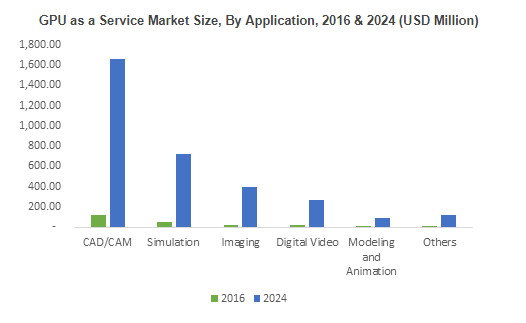 The 

GPU as a service market

 is characterized by R&D for vector processing and parallelism capabilities resulting in new algorithms and graphics design. Moreover, the increasing investments in AI platform and VR by players such as NVIDIA, Google, Intel, and Microsoft will improve the market potential and reliability on their GPU products.
GPU as a Service Market is set to exceed USD 5 billion by 2024; according to a new research report by Global Market Insights, Inc.


Company profiled in this report based on Business overview, Financial data, Product landscape, Strategic outlook & SWOT analysis:





  
NVIDIA

  
AMD

  
Microsoft

  
Google

  
S3

  
AWS

  
IBM

  
Penguin computing

  
Peer1 Hosting

  
Nimbix

  
ScaleMatrix

  
Intel

  
Autodesk

  
Dassault Systems

  
PTC

  
Siemens PLM

  
Advanced Micro Holdings

  
Qualcomm




The GPU as a service industry helps in delivering enhanced images, including optical effects, seamless motion, and intricate shapes at a faster pace. The market is booming due to increase in demand for visual effects in gaming and entertainment applications. Also, the improved performance and functionality of the GPU have made them coprocessors for the computation, fostering the market growth.
The GPU as a service market demand is forecast to witness double digit growth owing to constant changes in graphic games, AR, VR, and AI. Changing megatrends in the electronics and IoT space will create new opportunities in the industry owing to huge investment and the need to develop new software graphics design. However, the inability to integrate GPU hardware with cloud and managed services will restrain growth.


To access a sample copy or view the GPU as a Service Market report in detail along with the table of contents, please click the link below: 

www.gminsights.com/request-sample/detail/2143
Software holds majority of the GPU as a service market share and is projected to grow at around 40% CAGR from 2017 to 2024. The imaging technology will be driven by the modernization of the technology in various industry sectors. Other drivers include the commercialization of 3D imaging in products such as smartphones, cameras, camcorders, TV, and gaming consoles. With the change in the technology landscape, organizations are demanding advanced imaging solutions for market expansion and better understanding of the innovative products and services.
There has been a steady rise in the gaming audience and support for AR and VR in the gaming sector. Thus, GPU providers and AR and VR players are collaborating and integrating their solutions to come up with relevant products for their customers. The design and manufacturing plants and automotive sector will have highest growth due to the increase in sales of four wheelers and huge investment from analytics firms such as OmniSci.
The rise in gaming audience and use of 3D modeling for automotive parts is driving the APAC GPU as a service market. Companies operating in the industry include GPU hardware, cloud providers, and GPU software providers. The hardware providers such as NVIDIA, AMD, and S3 hold most of the market with software providers such as Siemens, PTC, Qualcomm, and ScaleMatrix trying to acquire market share through their expertise of CAD and simulation capabilities. Also, the cloud providers such as Google, Microsoft, IBM, and Amazon are trying to connect with pure-players and offer services on their cloud. This will help in establishing themselves in the growing GPU as a service market.