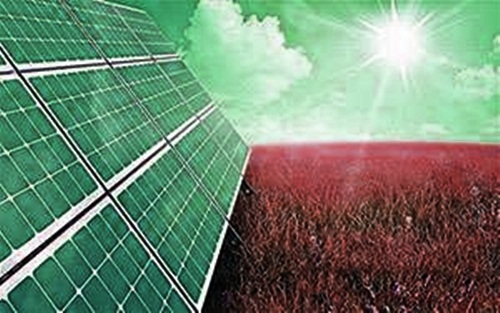 solar cells industry in China accounted for over 45% of the global share in 2015. Rising investment in the photovoltaic industry along with tax credits, soft loans, and other special grants by the government will stimulate the business outlook. According to the Ministry of Industry and Information Technology, photovoltaic industry has witnessed record investment of USD 12.3 billion in 2015.



Global Solar Cells Market is expected to grow at over 12% to surpass USD 100 billion by 2024. Increasing inclination towards sustainable energy adoption will stimulate the global solar cells market share over the forecast timeframe. Rising demand for off grid electricity along with reducing photovoltaic component cost will propel the industry landscape. As per the World Energy Outlook 2016, around 1.2 billion people in the world have no access to electricity.
Company profiled in this report based on Business overview, Financial data, Product landscape, Strategic outlook & SWOT analysis:

Jinko Solar
Trina Solar
Canadian Solar
First Solar
Moser Baer India Ltd
Yingli Solar
SunPower Corporation
Sunedison, Inc.
Indosolar
Tata Power Solar Systems Ltd.
SolarWorld
Government initiatives towards conservation of energy coupled with ambitious targets to reduce carbon emission will further propel the solar cells market. In June 2015, Government of India has set revised solar mission target at 100 GW by 2022. As per the Ministry of New and Renewable Energy (MNRE), an estimated total investment of USD 94 billion is expected for upgradation to 100 GW solar power capacity. International Finance Corporation and World bank have also introduced programs including "Lighting Africa" with an aim to encourage the adoption of photovoltaic over conventional product source among off grid population.
To access a sample copy or view the Solar Cells Market report in detail along with the table of contents, please click the link below:
www.gminsights.com/request-sample/detail/304 Rising demand for the decentralized generation systems in developing nations will enhance the penetration of the sustainable energy during the forecast period. Increasing investment towards rural electrification in off-grid locations in various countries including India, China, and Africa will fuel the solar cells market growth. In September 2015, African Development Bank (AfDB) approved USD 121 million loan and grant for the electricity expansion of rural households in Uganda. The U.S. in 2015 was valued over USD 4 billion and is anticipated to expand over 14% owing to increasing utility scale installation. Government measures towards energy efficiency and carbon emission reduction will further complement the U.S. solar cells market growth. As per the Solar Energy Association, the solar industry in the U.S. installed 7,286 MW of solar photovoltaics in 2015 where the utility-scale sector represented more than 50% of the total solar PV installation. Ultra-thin film cells technology was valued over USD 3 million in 2015 and is anticipated to expand over 30% by 2024 in terms of volume. Higher efficiency and light weight compared to other alternate technology will positively encourage the industry landscape. Key participants in the solar cells market include Jinko, Sunedison, Canadian, Trina, Yingli, First Solar, Moser Baer, SunPower Corporation, GreenBrilliance, Indosolar, Tata Power, Solar World, and Mitsubishi Electric Corporation.