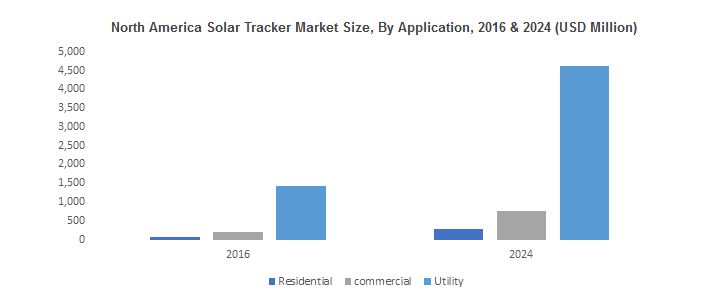 Solar Tracker Market share for utility applications was dominant in 2015. Rising demand for electricity from developing economies coupled with low electrification rates in certain regions of world will stimulate the product demand for utilities. Utility application demand in Spain is anticipated to grow above 12% by 2023.
Global Solar Tracker Market will witness growth above 17% and exceed 32 GW by 2024. Growing concerns towards greenhouse gas emissions coupled with supportive government policies for sustainable and renewable energy based generation will boost the global solar tracker market. In 2011, the U.S. Department of Energy launched SunShot Initiative to promote utilization of renewable energy. The initiative targets making solar technologies cost competitive by 2020 without government subsidies.
Single-axis solar tracker market was exceeded USD 1 billion in 2015. Low cost associated with single axis solar trackers will boost the industry growth during the forecast timeline. Single axis tracking systems are widely preferred in utility, commercial and residential applications.
To access a sample copy or view the solar tracker market report in detail along with the table of contents, please click the link below:www.gminsights.com/request-sample/detail/364
Decreasing component prices and improvements in power efficiency will stimulate the industry growth during the forecast timeframe. Solar Photovoltaic is one the fastest growing renewable energy technology in the world and finds its application in commercial, residential and utility sector. In the past 50 years, solar PV efficiency has improved from nearly 14% to over 20%. Growing demand for utilization of clean and reliable energy resources and rising electricity prices will further boost the product demand.
High maintenance and investment cost associated with some of the solar technologies may negatively influence the industry outlook. Large land requirement for installations may further hamper the product demand.
PV solar tracker industry accounted for over 65% of market share in 2015. Photovoltaic solar trackers do not need sterling energy, lenses or mirrors for electricity generation and are suitable for non-utility applications.
Asia-Pacific region including India, China & Japan, had the largest regional share with installations in 2015. Growing infrastructure development coupled with increasing electricity demand with will drive the industry growth in China. In North America, solar tracker market is set to exceed growth rate of 15% by 2023 owing to growing product demand in the U.S. In the U.S., demand for Dual axis tracking systems is expected to witness substation growth of over 18.0% during forecast period.
Notable market players include Grupo Calvijo, Wuxi Hao Solar, SunPower, and Abengoa Industry is fragmented into four competitors holding over 40% of the market share Other key participants include Array Technologies, AllEarth Renewables, Energia Ercam, Soitec, and. Titan Tracker.