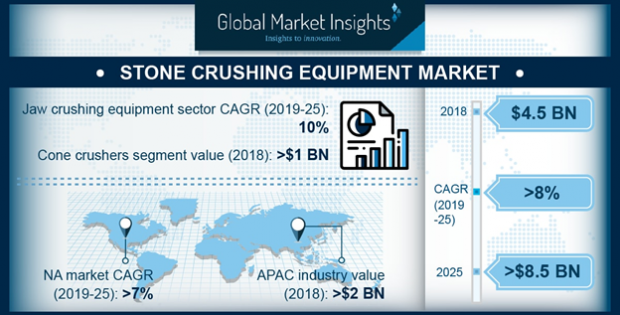 Stone Crushing Equipment Market Size, Industry Analysis Report, Regional Outlook (Americas, Europe, APAC and EMEA), Application Development status, Price Trend, Competitive Market Share & Forecast, 2019-2025.
North America stone crushing equipment market growth is expected to grow at over 7% CAGR from 2019 to 2025. It can be attributed to the several ongoing & upcoming skyscrapers projects followed by the increasing infrastructure investments in the U.S. and Canada. As per the data revealed by The Associated General Contractors of America, Inc., the construction spending of public & private sectors in the U.S. registered USD 1.329 trillion during 2018. Within the private construction sector, spending for residential projects increased to 6.4 percent and 3.5 percent for non-residential projects.
Request for a sample copy of this report @ https://www.gminsights.com/request-sample/detail/2011
Stone Crushing Equipment Market size is set to exceed USD 8.5 billion by 2025; according to a new research report by Global Market Insights, Inc. Growing infrastructure & construction activities across the globe and the resultant utilization of equipment for crushing stones are contributing to the stone crushing equipment market growth. Rise in mining activities in the U.S. and Canada are increasing the utilization of stone crushers due to their ability to crush ores, minerals, and rock efficiently. These machines are majorly located near construction projects where it is required on a larger scale. The utilization of mobile crushers is advantageous to the construction & mining industry due to the low cost of transportation. The leading players are striving toward designing electric mobile jaw crushers that will help in delivering maximum productivity with low cost of transportation.
The emissions during mining, screening, and crushing operations will pose challenges to the stone crushing equipment market growth over the forecast timeline. During crushing operations, the generation of dust emissions is inherent, and the emissions are the most common at crusher feed and discharge points. Additionally, the dust adversely affects visibility at sites and creates health hazards to workers as well as the surrounding population by causing respiratory diseases. To reduce harmful emissions, crushers shall be covered with galvanized iron sheets and water sprinkler system shall be provided on these machines to suppress the dust generated due to material handling activities.
Cone crushers segment were valued at over USD 1 billion in 2018. These equipment' are widely utilized in the building & road construction, metallurgy, chemical, and many other industries for crushing a variety of raw materials including ores and medium-hard rocks. These machines crush the material between concave & convex shaped surfaces. This crusher has a stable structure that aids contractors to gain a higher production efficiency. Cone crushers are gaining high demand from contractors due to their high crushing ratio, lesser spare part requirement, and lower operating costs. These crushers are flexible & versatile, promoting their utilization in a wide range of crushing applications. The innovations of mobile cone crushers are attributed to the stone crushing equipment market growth. These crushers are flexible and easily moveable, aiding instant work operations at complex construction sites.
Make an inquiry for purchasing this report @https://www.gminsights.com/inquiry-before-buying/2011
The increasing popularity of stone crushers in the mining industry due to its ability to crush granite, iron ore, and other minerals & rocks efficiently will drive the stone crushing equipment market. According to World Mining Data, the total mining production across the globe was noted as 16.9 billion metric tons in 2016 and the number is anticipated to increase significantly over the forecast time period. China is the largest coal producer in the world, accounting for 46 percent of global coal production. The Chinese government is focusing on the development of new coal projects, propelling the demand for stone crushers in the region. Quarrying will witness significant growth due to the increasing quarrying activities across the globe, majorly in North America, further contributing to the market growth.
Prominent players in the stone crushing equipment market are Sandvik AB, Terex Corporation, Komatsu Ltd., Mesto Oyj, Eagle Crusher Company, Inc., Astec Industries, IROCK Crusher, and Thyssenkrupp. Partnerships and strategic joint ventures are among the prominent strategies adopted by the leading players for improving their market share. Additionally, the companies are offering advanced products to deliver high performance and quality while crushing. For instance, in February 2016, Terex Finlay launched I-140 impact crusher which offers a technologically advanced electronic control system which controls the heavy-duty vibrating feeder in order to maintain a steady feed of material into the impact chamber for efficient crushing conditions. The leading players operating in the stone crushing equipment industry are increasing their R&D expenditures to offer technologically advanced products to customers.
Related News – https://www.marketwatch.com/press-release/stone-crushing-equipment-market-2019-by-regional-trend-growth-forecast-to-2025-2019-04-30