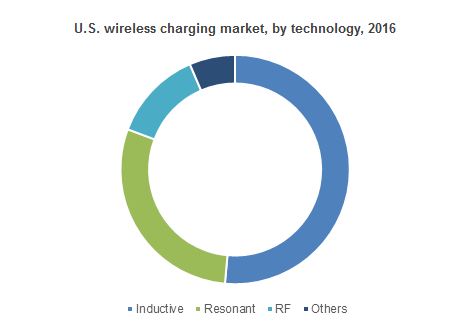 Wireless Charging Market Growth will be driven by increasing demand of the technology across the automotive sector owing to rising pollution concerns as well as depleting fossil. Manufacturers have recognized that consumers are increasing their spending capacity and are ready to invest in premium products. Several automotive manufacturers such as Audi, BMW, Daimler and Toyota are actively researching the technology. The industry is characterized by a considerable amount of R&D, which is expected to contribute to overall growth.


Global Wireless Charging Marketis set to exceed USD 14 billion, will grow at more than 13% CAGR estimation from 2017 to 2024. A huge opportunity for the technology exists in the highly automated & connected industries, as the battery power is a vital factor in several industrial applications. Wireless charging in industrial settings helps reduce the risk of explosions caused by stray sparks which occur during the connection and disconnection of current carrying power cables.





In industrial applications of unmanned systems and robotic vehicles which require high voltages of electricity to operate efficiently, the technology is providing a consistent, high efficiency power supply to batteries which is expected to enhance the wireless charging market growth. Resonant technology accounted for more than 25% of the wireless charging market share in 2016.





To access a sample copy or view the wireless charging market report in detail along with the table of contents, please click the link below:www.gminsights.com/request-sample/detail/440




The technology does not require direct contact for charging of devices and allows several devices to be charged simultaneously. It has a competitive advantage over the inductive technology as it offers wireless transfer of power at a long range for multiple devices. The technology is anticipated to become more widely available at coffee-shop tables and in offices under the desks.





U.S. wireless charging market is the largest regional segment, and has witnessed considerable government support. The incentives provided by the U.S government for the development and the usage of the devices include competitive programs to help encourage suppliers and manufacturers investment in R&D and infrastructure. For instance, the Obama Administration announced in November 2016 the establishment of more than 45 national EV corridors which would act as wireless charging networks on highways.





While wireless charging market had been introduced in the international circuit for more than two decades back, its commercialization scope has surpassed escalated levels merely a few years back. This business space has been ablaze with numerous innovations on an annual basis, though 2017, has indeed been a spectacular year for wireless charging industry. Some of the marked developments that defined the growth spectrum of wireless charging market in 2017 have been meticulously outlined underneath:





Speaking of which, some of the prominent players in wireless charging industry include Texas Instruments, Inc., Device Technology, Inc., Mojo Mobility, Inc., WiTricity Corporation, Powercast Corporation, Energizer Holdings, Inc., Powermat Technologies Ltd., Qualcomm Inc., Leggett & Platt Inc., Convenient Power Ltd., PowerbyProxi Ltd., and Murata Manufacturing Co. Ltd.