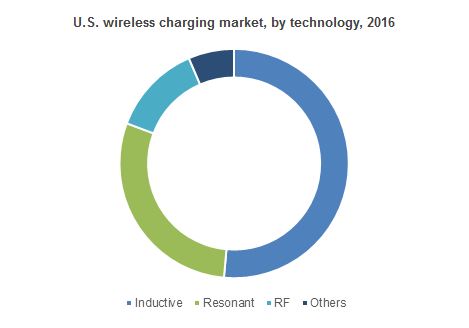 Wireless Charging Market in industrial application segment is expected to witness opportunities due to the need for the technology in highly automated environments such as factories which constantly needs to be charged. With no connectors to be concerned about, a wireless-charging system can be made resistant to stray liquids, dust, or gases. Furthermore, there is no potential risk of an explosion instigated by a stray spark while connecting or disconnecting a current-carrying cable which is providing an impetus to the wireless charging market growth.
A major factor aiding the U.S. wireless charging market growth are the incentives provided by its government for the development and the usage of the wireless charging equipment's. The U.S federal government is providing tax credits of USD 2,500 to USD 7500 for each EV purchased in the country. Increase in adoption of EVs in the country is anticipated to provide the industry several growth prospects. Moreover, several restaurants and coffee shops in the country are implementing the technology to increase the consumer awareness about the brand and provide a hassle-free user experience.
Consumer applications accounted for more than 55% of the overall wireless charging market share in 2016. With the rising application of wireless charging in several commercial spaces, the industry is witnessing an enhanced demand for the technology from consumers. Major smartphone manufacturers such as Apple and Samsung are gearing to incorporate the technology into their flagship products. Widespread adoption of the technology will further drive the development of infrastructure thereby propelling the market.
To access a sample copy or view the wireless charging market report in detail along with the table of contents, please click the link below:www.gminsights.com/request-sample/detail/440
Inductive wireless charging market accounted for majority of the global share in 2016 as it is an advanced and preferred technology for EVs and electronic devices as compared to other technologies. Inductive technology is being used for charging devices such as iPods, laptops, MP3 players, tablets, smartphones, and other devices, which need high power.
Wireless Charging Market is anticipated to exceed USD 14 billion by 2024 with the industry growth pegged at a CAGR of over 13% from 2017 to 2024. Rise in the usage of wireless charging in several automotive and consumer applications is expected to propel the industry demand over forecast timeline. With ongoing technological advancements in the technology, wireless power charging built into desks, tables, and workstations, will soon become a reality. Several commercial places are implementing these solutions to attract more consumers and are providing hassle-free experience. Initiatives such as smart cities are further anticipated to surge the wireless charging market demand.
The technology has evolved to adapt to consumer range and distance requirements. Inductive charging technology is a highly efficient technology that is commercially available for usage. Qi technology is available at a cost-effective, competitive pricing, and is designed to work efficiently with a range of mobile devices. Moreover, the technology is being used in medical implants for advanced medical therapies for a variety of chronic conditions, owing to its ability to safely charge healthcare devices, and eliminating the battery need in some cases. These factors are positively aiding the wireless charging market.
Inductive technology has penetrated significantly into the wireless charging market and contributed to more than 50% of the global revenue in 2016. WPC's inductive Qi standard powers a range of smartphones, accessories and products. It can be implemented for close range wireless charging and is highly efficient, cost effective to deploy and easy to design. The technology is mature and the most preferred technology for charging as compared to other technologies and can be scaled up to support bigger products and EVs. Inductive charging is projected to exist in environments where safety, efficiency, and high power, are necessary.