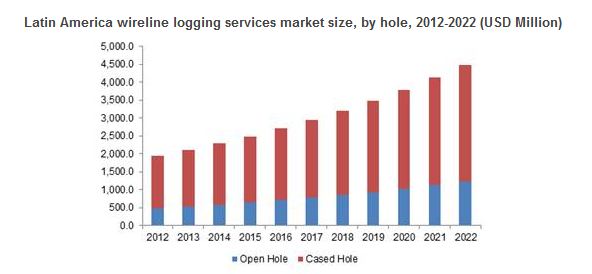 Wireline Logging Services Market is continuously evolving owing to changing customer needs, and
technical developments. Increasing demand for real-time logging along with rising need for
energy solutions are encouraging oil & gas companies to invest into exploration and production
activities.Wireline logging services market will observe a significant growth and is estimated to exceed USD 24 billion by 2022.




Furthermore, changes in price trends of crude oil will attract heavy investments in drilling
activities which in turn increases the number of projects undertaken and will support the
wireline logging service market growth over the forecast timeframe.Increasing R&D investments has led to design and development of high-end products which provides ease-of-use. However, concerns regarding impacts of environment may hamper the industry growth.




The log can be performed in boreholes drilled for the mineral and geothermal exploration, oil & gas, and geotechnical & environmental studies. It may be based on physical measurements made by instruments lowered into the hole or on visual inspection of samples brought to the surface. Few logging techniques include Logging While Drilling (LWD), Measurement While Drilling (MWD), gamma ray, and nuclear magnetic resonance.




To access a sample copy or view the wireline logging services market report in detail along with the table of contents, please click the link below:www.gminsights.com/request-sample/detail/135




Cased hole and open hole are the major hole type segment in the wireline logging services
market. Cased hole accounted for over 75% of the industry share in 2014 and is expected to
continue its dominance. It is projected to surpass USD 18.5 billion by 2022 with 6.6% CAGR from
2015 to 2022.




Open-hole services is expected grow at over 7.5% CAGR and will reach over USD 5 billion by 2022.
It includes various services such as formation evaluation, geological, hostile slimhole tools,
fluid sampling and reservoir testing.




By technology, E-line services uses high mechanical strength steel armored cables for
transmitting well logging data continuously to the surface. Other technologies include slickline
services which controls opening and closing access to zones along with substitution of gas lift
valves. Furthermore, it is enabled to measure well depth, temperatures, perforation and down-
hole pressure. The key benefits offered include cost saving, safe operation owing to reliable
pressure control and less environmental degradation.




North America held the highest wireline logging services market share in 2014 and is expected to
lead over the forecast period. This can be credited to increasing number of wells both in
onshore and offshore areas and growing shale activities across the region. Latin America is
projected to witness substantial growth owing to rising energy demands.